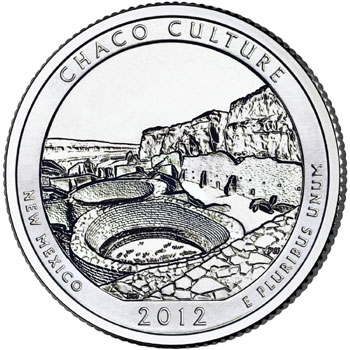 The Chaco Culture National Historical Park Quarter was the twelfth overall release for the America the Beautiful Quarters Program. The site is located in the state of New Mexico and was federally designated on March 11, 1907.
On the reverse of the coin is a design providing a glimpse of the vastness of the site and the constructions which provide cultural significance. The image includes a view to the west of two elevated kivas and the north wall of the Chetro Ketl. The north wall of the canyon is also included. Inscriptions surround the image include "Chaco Culture", "New Mexico", "2012", and "E Pluribus Unum". The reverse was designed by Donna Weaver and sculpted by Phebe Hemphill.
The mintage level for the Chaco Culture Quarter marked a new low amongst regular circulating quality issues of the series. The Philadelphia and Denver Mints each struck 22 million coins, for a combined total of just 44 million pieces. This represented a mere fraction of the mintage levels of the prior 50 State Quarters Program.
The official circulation release date for the coins was April 2, 2012. On this date, the United States Mint also began sales of bags and rolls of circulating quality coins bearing the "P" or "D" mint marks. The Mint would also offer circulating quality coins bearing the "S" mint mark, which had a mintage of 1,389,020 pieces.
Chaco Culture Quarter Mintages
2012-D Chaco Culture Quarter: 22,000,000
2012-P Chaco Culture Quarter: 22,000,000
2012-S Chaco Culture Quarter: 1,389,020
Chaco Culture Quarter Specifications
Designers: John Flanagan (obverse), Donna Weaver (reverse)
Composition: 91.67% copper, 8.33% nickel (clad), 90% silver, 10% copper (silver proof)
Diameter: 24.26 mm

Weight: 5.67 grams

Thickness: 1.75 mm

Edge: Reeded
About Chaco Culture National Historical Park
The continental United States is lucky to be home to the archeological remnants of several ancient civilizations, although there may not be any as beautiful and memorable as those that are found at Chaco Culture National Historical Park.
As early as 850 AD the Chaco area of New Mexico was the home of the Chacoan people and the center of excitement, trade, ceremony and administration for those that existed in the prehistoric area of the Four Corners. When you visit the Chaco Culture National History Park, you will be surprised to learn that the foundations of complicated public buildings that were built by the Chaco still remain to be seen today.
Without the sophisticated tools that we have today, the Chaco were able to devised architectural plans, organize labor to put the plans into action, and engineer support systems to keep their buildings standing strong. It was in the year 1907 that the federal government decided that this unique heritage was worth protecting and the declared that the area be known as Chaco Canyon National Monument.