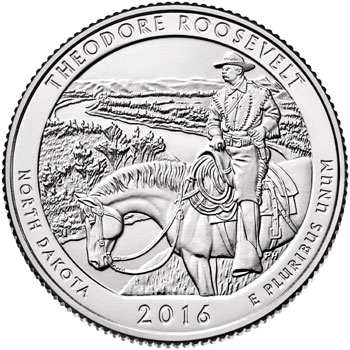 The Theodore Roosevelt National Park Quarter represented the thirty-fourth overall release within the America the Beautiful Quarters Program. The site represents the state of North Dakota and was federally designated on February 25, 1946.
The reverse design depicts a young Theodore Roosevelt on horseback surveying the terrain near the Little Missouri River. As the 26th President, Roosevelt had an enduring impact to the conservation of the nation's landscapes and wildlife. The inscriptions include "Theodore Roosevelt", "North Dakota", "2016", and "E Pluribus Unum". The reverse was designed by United States Mint Artistic Infusion Program Joel Iskowitz and sculpted by Phebe Hemphill.
The Theodore Roosevelt Quarter was officially released for circulation on August 29, 2016. The Denver Mint struck 223,200,000 and the Philadelphia Mint struck 231,600,000 coins for circulation.
Theodore Roosevelt Quarter Mintages
2016-D Theodore Roosevelt Quarter: 223,200,000
2016-P Theodore Roosevelt Quarter: 231,600,000
2016-S Theodore Roosevelt Quarter: 1,057,020
Theodore Roosevelt Quarter Specifications
Designers: John Flanagan (obverse), Joel Iskowitz (reverse)
Composition: 91.67% copper, 8.33% nickel (clad), 90% silver, 10% copper (silver proof)
Diameter: 24.26 mm

Weight: 5.67 grams

Thickness: 1.75 mm

Edge: Reeded
About Theodore Roosevelt National Park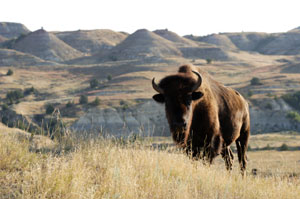 Today politicians and presidents have the reputation of being very formal entities that are completely absorbed with the struggles of running a country and a government. It can be hard to imagine American Presidents as anything but government figures, but the truth is that early U.S. Presidents usually had many other jobs and life adventures before they came into office.
Their strength and bravery as businessmen and pioneers are one of the things that make this country great, and prove that any one citizen has the ability to do great things for their country. Theodore Roosevelt has become one of the most loved presidents in the history of the United States, and it is no surprise that he attributes his time spent as a rancher in the North Dakota hills as one of the things that made him the strong leader that he was.
It was 1883 when Teddy Roosevelt first came to the Badlands of North Dakota on a hunting trip. He loved the wildlife and scenery of the area so much that he eventually bought not one but two cattle ranches there, named the Maltese Cross and the Elkhorn. These two locations eventually became the basis of recognizing the historical significance of the area, and they would make up the bulk of what is now known as the Theodore Roosevelt National Park in North Dakota.
Officially recognized by the federal government in 1946, the park provides a unique place for visitors to learn more about the ecosystem and the environment of North Dakota, and how spending time there early in his life helped Roosevelt form very strong opinions about conserving the natural areas of this country.