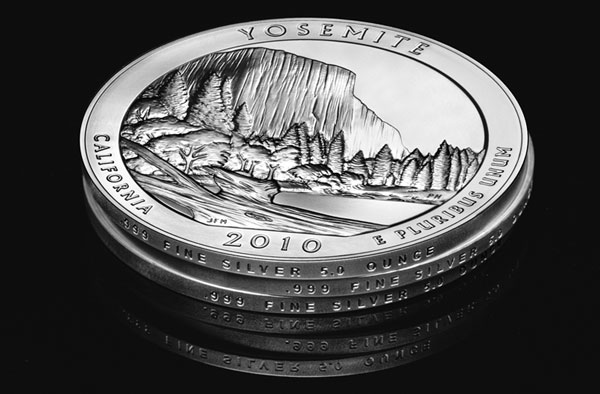 The legislation which authorized the America the Beautiful Quarters also included authorization to produce silver bullion investment coins which are exact duplicates of each quarter. These coins would each contain 5 ounces of .999 fine silver.
Currently the United States Mint only produces one type of silver bullion coin. This is the American Silver Eagle, which has been produced since 1986. These coins are available only in one ounce size, and sold as bullion coins by the United States Mint to network of authorized bullion dealers. Proof versions of the bullion coins are also sold directly to the public.
The America the Beautiful Silver Bullion coins would have a diameter of 3.0 inches and weight 5.0 ounces. Each coin would be minted in .999 fine silver. Each coin would feature incused edge lettering which would indicate the fineness and weight of the bullion coin. The coins would only be issued in the five ounce size. No fractional or smaller sizes would be minted.
These bullion coins would be available no sooner than the first day of the calendar year in which the quarters are issued. They will only be available for sale during the calendar year that the quarters are issued. The coins would be distributed through the US Mint's network of authorized bullion dealers.