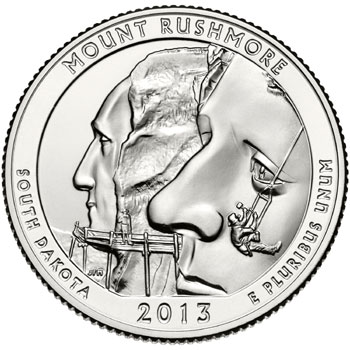 The Mount Rushmore National Memorial Quarter represented the twentieth overall release within the America the Beautiful Quarters Program. The site represents the state of Nevada and was federally designated on January 24, 1922.
The reverse design by Joseph Menna was inspired by photos of workmen adding the final details to Thomas Jefferson's face on the memorial. This provides an interesting view of the famous site and an educational perspective on how it was created and sculpted. The inscriptions surrounding the image read "Mount Rushmore", "South Dakota", "2013", and "E Pluribus Unum".
The Mount Rushmore Quarter was officially released for circulation on November 4, 2013. The Denver Mint struck 272,400,000 and the Philadelphia Mint struck 231,800,000 coins for circulation.
During the year, the coin was also available in a number of different numismatic products including circulating quality coins in bags and rolls, annual sets, and program specific products. Finally, the design was featured on the America the Beautiful Five Ounce Silver Coins, offered in both bullion and collector formats.
Mount Rushmore Quarter Mintages
2013-D Mount Rushmore Quarter: 272,400,000
2013-P Mount Rushmore Quarter: 231,800,000
2013-S Mount Rushmore Quarter: 1,373,260
Mount Rushmore Quarter Specifications
Designers: John Flanagan (obverse), Joseph Menna (reverse)
Composition: 91.67% copper, 8.33% nickel (clad), 90% silver, 10% copper (silver proof)
Diameter: 24.26 mm

Weight: 5.67 grams

Thickness: 1.75 mm

Edge: Reeded
About Mount Rushmore National Memorial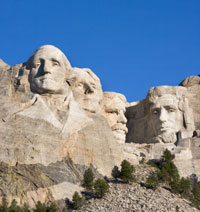 There are many people that are very proud of the state that they come from, and they usually find unique ways to display their pride. Doane Robinson, a native of South Dakota born in 1856, wanted to do something significant that would attract visitors to his home state for many years to come. Eventually, this desire would lead to Robinson to carve the faces of our most influential presidents in the side of a mountain in the Black Hills.
Accomplishing Robinson's dream took a lot of inspiration and financial help along the way, and he had many friends that would see him through the project from initial plans to completion. The result is a Mount Rushmore National Memorial that millions of people from all around the world visit every year.
The faces of George Washington, Thomas Jefferson, Abraham Lincoln, and Theodore Roosevelt were slowly etched into the side of this massive precipice by sculptor Gutzon Borglum and his son, Lincoln Borglum. The monument was officially recognized by the federal government in March of 1925, and it has since become a national symbol for the values of patriotism and freedom. A visit to the Mount Rushmore National Memorial will provide tourist with a unique opportunity to marvel at the majesty of this one of a kind sculpture.