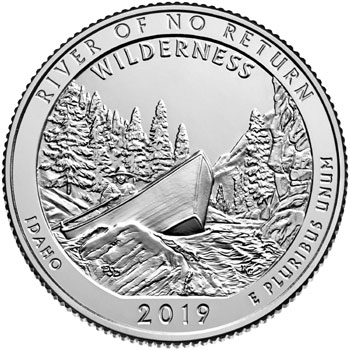 The Frank Church River of No Return Wilderness Quarter was the fiftieth overall release within the America the Beautiful Quarters Program. The site represents the state of Idaho and was federally designated on July 23, 1980.
The reverse design depicts a piloted drift boat on the rushing river encompassed by the trees and rock formations of the Wilderness. The area is the largest single connected wilderness in the contiguous United States. The inscriptions read "River of No Return", "Wilderness" "Idaho", "2019", and "E Pluribus Unum". The reverse was designed by United States Mint Artistic Infusion Program Designer Emily Damstra and sculpted by Renata Gordon.
The River of No Return Quarter was officially released for circulation on February 4, 2019. The Denver Mint struck 251,600,000 and the Philadelphia Mint struck 223,400,000 coins for circulation. The West Point Mint also struck 2,000,000 coins for release into circulation in order to promote interest in coin collecting.
River of No Return Quarter Mintages
2019-D River of No Return Quarter: 251,600,000
2019-P River of No Return Quarter: 223,400,000
2019-W River of No Return Quarter: 2,000,000
River of No Return Quarter Specifications
Designers: John Flanagan (obverse), Emily Damstra (reverse)
Composition: 91.67% copper, 8.33% nickel (clad), 90% silver, 10% copper (silver proof)
Diameter: 24.26 mm

Weight: 5.67 grams

Thickness: 1.75 mm

Edge: Reeded
About Frank Church River of No Return Wilderness
If you've been wondering where you can find the biggest unbroken tract of protected wilderness lands in the entire country, it's not in Colorado or California; it's in Idaho, and it's called the Frank Church – River of No Return Wilderness. Covering over two million acres of pristine wilderness, the River or No Return Wilderness is a living example of the importance of keeping some land sacred from development or resource depletion. This massive piece of land contains several groupings of mountains, including the Clearwater Mountains, Salmon River Mountains and the Bighorn Crags. Initially this land was divided into several smaller areas of wilderness and primitive areas, and it was the work of one dedicated U.S. Senator, Mr. Frank Church, that resulted in its official protection from the federal government in 1980.
The Frank Church River of No Return Wilderness is a very special piece of land, in that it provides a much needed home for an extensive variety of mammal species. Some of the species that call the Wilderness home have been on the endangered list for years, including mountain lions, grey wolves and wolverines. Without a protected wilderness to call their home, these species would be hunted and eliminated like so many species before them. Visitors to the Frank Church River of No Return Wilderness are usually those who are seeking to get away from it all and reconnect with the wildness of nature. There are very few roads in and around the wilderness area, so campers and hikers will be in for a time of seclusion and self-sufficiency like no other.