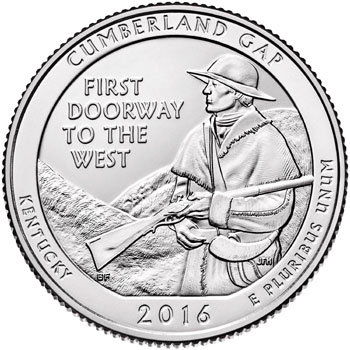 The Cumberland Gap National Historical Park Quarter represented the thirty-second overall release within the America the Beautiful Quarters Program. The site represents the state of Kentucky and was federally designated on June 11, 1940.
The reverse design features a frontiersman gazing across the mountains to the West. The Cumberland Gap is a break in the Appalachian Mountain chain which served as the first gateway into the western wilderness of Kentucky and Tennessee. The inscriptions read "First Doorway to the West", "Cumberland Gap", "Kentucky", "2016", and "E Pluribus Unum". The reverse was designed by Artistic Infusion Program artist Barbara Fox and sculpted by Joseph Menna.
The Cumberland Gap Quarter was officially released for circulation on April 4, 2016. The Denver Mint struck 223,200,000 and the Philadelphia Mint struck 215,400,000 coins for circulation.
Cumberland Gap Quarter Mintages
2016-D Cumberland Gap Quarter: 223,200,000
2016-P Cumberland Gap Quarter: 215,400,000
2016-S Cumberland Gap Quarter: 1,021,120
Cumberland Gap Quarter Specifications
Designers: John Flanagan (obverse), Barbara Fox (reverse)
Composition: 91.67% copper, 8.33% nickel (clad), 90% silver, 10% copper (silver proof)
Diameter: 24.26 mm

Weight: 5.67 grams

Thickness: 1.75 mm

Edge: Reeded
About Cumberland Gap National Historical Park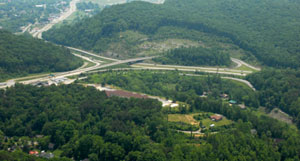 One of the most significant features of the historical Appalachian Mountain chain is the area where it is not. The Cumberland Gap National Historical Park is a celebration of the major break in the mountain chain where it extends into Kentucky. Almost four miles in width in some areas, the Cumberland Gap is a unique nature preserve that extends for almost twenty-six miles along Cumberland Mountain. Home to a diverse population of wildlife and breathtaking vistas, the Cumberland Gap National Historical Park is a place that national park enthusiasts must visit.
First established as a protected area by the federal government in June of 1940, the Park is a showcase of the best and most beautiful features that the Appalachians have to offer. Visitors to the park are invited to enjoy the lush vegetation that is indicative of the immense amount of moisture that falls every year in the Appalachian region.
The Park is also home to many unique types of wildlife, like white-tailed deer, wild turkey, black bear and rabbit; any of which are likely to be spotted by observers that visit the park.  The park also acts as a haven for the endangered Indiana Bat as well as fifty-nine state-listed rare plant species. One of the most unique features of the Park has to be its extensive cave system, which gives visitors a chance to experience life underground.