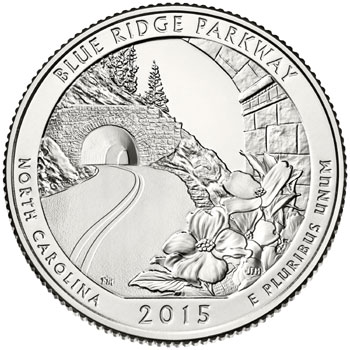 The Blue Ridge Parkway Quarter represented the twenty-eighth overall release within the America the Beautiful Quarters Program. The site represents the state of North Carolina and was federally designated on June 30, 1936.
The reverse design depicts a short stretch of the parkway hugging the side of a mountain, with flowering dogwood in the foreground. The inscriptions read "Blue Ridge Parkway", "North Carolina", "2015", and "E Pluribus Unum". The reverse was designed by Artistic Infusion Program artist Frank Morris and sculpted by Joseph Menna.
The Blue Ridge Parkway Quarter was officially released for circulation on February 9, 2015. The Denver Mint struck 505,200,000 and the Philadelphia Mint struck 325,616,000 coins for circulation.
Blue Ridge Parkway Quarter Mintages
2015-D Blue Ridge Parkway Quarter: 505,200,000
2015-P Blue Ridge Parkway Quarter: 325,616,000
2015-S Blue Ridge Parkway Quarter: 1,096,620
Blue Ridge Parkway Quarter Specifications
Designers: John Flanagan (obverse), Frank Morris (reverse)
Composition: 91.67% copper, 8.33% nickel (clad), 90% silver, 10% copper (silver proof)
Diameter: 24.26 mm

Weight: 5.67 grams

Thickness: 1.75 mm

Edge: Reeded
About Blue Ridge Parkway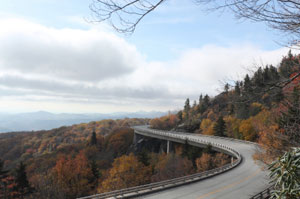 When you think of amazing natural areas that are preserved by the federal government, the last thing you probably think of is a roadway. Typically, we think of paved roads as an indication that a natural area is no longer free from the influence of human development, but there have been some exceptions. The Blue Ridge Parkway that runs almost from the Shenandoah National Park in Virginia to the Great Smoky Mountains National Park in Tennessee is an example that creating a road does not mean you must destroy the natural beauty and culture of an area. If you are interested in experiencing breathtaking scenery from the comfort of your automobile, the Blue Ridge Parkway is something that you have to give a try.
The Blue Ridge Parkway is a four hundred and sixty-nine mile stretch of highway that winds through meadows, mountain ridges, valleys and forests of the country between Virginia and Tennessee. Known as "America's Favorite Drive" visitors flock to the Parkway every year to take in the meadows, old homesteads, and original split rail fencing that allow one to slow down and really pay attention to the scenery as it passes.
First commissioned by the federal government in 1936, the Parkway took almost half a century to complete. Visitors on the Parkway will have the opportunity to stop at one of the many parks and recreational areas that have been built along the nation's longest rural highway. Visitors' centers, trails, picnic areas, and camp grounds offer the ability to experience the Parkway in a variety of different ways, depending on how much time you have to meander down it.