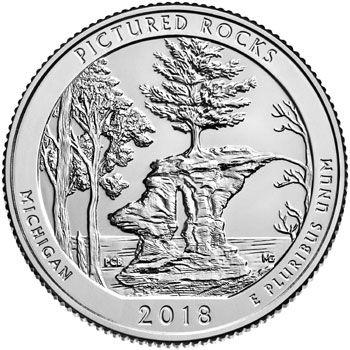 The Pictured Rocks National Lakeshore Quarter was the forty-first overall release within the America the Beautiful Quarters Program. The site represents the state of Michigan and was federally designated on October 15, 1966.
The reverse design depicts Chapel Rock and the white pine tree that grows atop. Established as the first national lakeshore, the area consists of a narrow strip of land around the Lake Superior Coast for more than 40 miles. The inscriptions read "Pictured Rocks", "Michigan", "2018", and "E Pluribus Unum". The reverse was designed by United States Mint Artistic Infusion Program Designer Paul C. Balan and sculpted by Mint Sculptor-Engraver Michael Gaudioso.
The Pictured Rocks Quarter was officially released for circulation on February 5, 2018. The Denver Mint struck 182,600,000 and the Philadelphia Mint struck 186,714,000 coins for circulation.
Pictured Rocks Quarter Mintages
2018-D Pictured Rocks Quarter: 182,600,000
2018-P Pictured Rocks Quarter: 186,714,000
2018-S Pictured Rocks Quarter: 917,580
Pictured Rocks Quarter Specifications
Designers: John Flanagan (obverse), Paul C. Balan (reverse)
Composition: 91.67% copper, 8.33% nickel (clad), 90% silver, 10% copper (silver proof)
Diameter: 24.26 mm

Weight: 5.67 grams

Thickness: 1.75 mm

Edge: Reeded
About Pictured Rocks National Lakeshore
The Great Lakes in the north central United States are some of the most magnificent bodies of water you will find in the entire country. Although they are correctly named lakes, many of these bodies of water are enormous in size and, when you are out in a boat amongst their waves, they can feel more like seas or oceans. Although you may think that boating, fishing and other water based activities are all that Lake Superior has to offer, you should definitely think again. Some of the most significant features of this lake are found not beneath its waves but on its shore. Towering high above the shores of Lake Superior are multicolored cliffs made of sandstone. Their delightful multicolored features are the reason that the area is known as Pictured Rocks National Lakeshore.
Initially recognized as a special area by the federal government in 1966, Pictured Rocks National Lakeshore is more than just beautiful waterfront cliffs. Because Lake Superior is uniquely situated in the area where the boreal forest gives way to the eastern deciduous forest biomes, visitors to the park are able to experience a variety of different trees and forest habitats. Equally as interesting to many visitors are the Grand Sable Dunes, which are perched on top of the sand bluffs at the eastern most portion of the Lakeshore area. If you are looking for miles of the most pristine beaches and lakeshore area that are left in this country, a visit to Pictured Rocks National Lakeshore is in order.