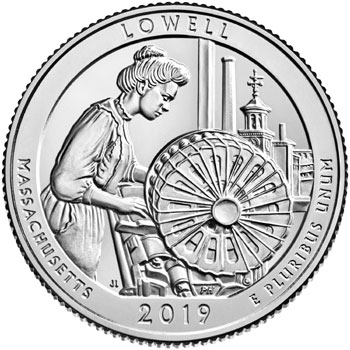 The Lowell National Historical Park Quarter was the forty-sixth overall release within the America the Beautiful Quarters Program. The site represents the state of Massachusetts and was federally designated on June 5, 1978.
The reverse design depicts a mill girl working at a power loom with a view of Lowell, including the Boott Mill clock tower, seen through the window. The mill town became known as the cradle of the American Industrial Revolution for its textile mills and factories. The inscriptions on the coin read "Lowell", "Massachusetts", "2019", and "E Pluribus Unum". The reverse was designed by United States Mint Artistic Infusion Program Designer Donna Weaver and sculpted by Joel Iskowitz.
The Lowell Quarter was officially released for circulation on February 4, 2019. The Denver Mint struck 182,200,000 and the Philadelphia Mint struck 165,800,000 coins for circulation. The West Point Mint also struck 2,000,000 coins for release into circulation in order to inspire interest in coin collecting.
Lowell Quarter Mintages
2019-D Lowell Quarter: 182,200,000
2019-P Lowell Quarter: 165,800,000
2019-W Lowell Quarter: 2,000,000
Lowell Quarter Specifications
Designers: John Flanagan (obverse), Joel Iskowitz (reverse)
Composition: 91.67% copper, 8.33% nickel (clad), 90% silver, 10% copper (silver proof)
Diameter: 24.26 mm

Weight: 5.67 grams

Thickness: 1.75 mm

Edge: Reeded
About Lowell National Historical Park
Although we are still learning to deal with the effects of industrialization on our natural areas, there can be no doubt that incorporating machines and mass production into the way Americans make things forever changed the trajectory of this country. As factories started to be built along America's rivers and waterways where they could draw power from the current, American workers moved away from agriculture and farm life forever. One of the earliest locations of the Industrial Revolution in America is found in Lowell Massachusetts, and the story of the mills and the workers that made their fortunes there is forever commemorated at Lowell National Historical Park.
First recognized by the federal government as a place of historical significance in 1978, Lowell National Historical Park is a place where visitors can travel back in time to experience the way that the textile industry operated and flourished in the nineteenth century. Textile mills were built along the powerful Merrimack River in order to be able to harness the currents to turn the mighty water wheels that provided power to the machines within them. When these factories were first built, they would forever change the way that people worked and lived in Lowell and the surrounding communities. The way that this first industrialization affected those historical communities can help visitors and researchers understand how further industrialization will continue to affect our society. Take some time to wander through the plants and imagine what your life would have been like as a worker or a textile businessman at the turn of the century.