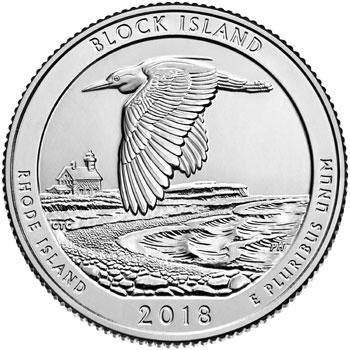 The Block Island National Wildlife Refuge Quarter was the forty-fifth overall release within the America the Beautiful Quarters Program. The site represents the state of Rhode Island and was federally designated on April 12, 1973.
The reverse design depicts a black-crowned night-heron flying over a view from the beach at Cow Cove looking towards Sandy Point. The North Lighthouse is seen in the background. The inscriptions read "Block Island", "Rhode Island", "2018", and "E Pluribus Unum". The reverse was designed by United States Mint Artistic Infusion Program Designer Chris Costello and sculpted by Phebe Hemphill.
The Block Island Quarter was officially released for circulation on November 13, 2018. The Denver and Philadelphia Mint each struck 159,600,000 coins for circulation.
Block Island Quarter Mintages
2018-D Block Island Quarter: 159,600,000
2018-P Block Island Quarter: 159,600,000
2018-S Block Island Quarter: 764,660
Block Island Quarter Specifications
Designers: John Flanagan (obverse), Patricia Lucas-Morris (reverse)
Composition: 91.67% copper, 8.33% nickel (clad), 90% silver, 10% copper (silver proof)
Diameter: 24.26 mm

Weight: 5.67 grams

Thickness: 1.75 mm

Edge: Reeded
About Block Island National Wildlife Refuge
There are only a few habitats that can demonstrate the changes of climate, weather and human development more readily than the shores of water based ecosystems. Islands are an interesting way to discover history and the way that our actions have the potential to affect the environment around us. Rhode Island's Block Island National Wildlife Refuge is an example of a maritime habitat that has been set aside so that wildlife that depends on untouched beaches and water to survive will have a place to continue to flourish. All it takes is a quick 12 mile ferry ride to experience the solace and protection that this refuge provides for the many unique species that call it home. Although the refuge was started with only twenty eight acres, it has since grown to include almost one hundred and twenty seven acres of protected land and shoreline.
Officially dedicated to federal protection in 1973, Block Island is mostly used as a resting and breeding ground for migratory birds that make the long trip from the cooling temperatures of the north to the balmy skies of the southern United States every year. Every season, over seventy different species of songbirds make a stop at Block Island to rest before continuing their journey. As you might expect, this makes the National Wildlife Refuge a favorite place for bird watching and song bird call identification. A lesser known boast of the Block Island National Wildlife Refuge is that it is a habitat of the Endangered American Burying Beetle, and it represents one of the last places that his beetle can be found in the entire country.