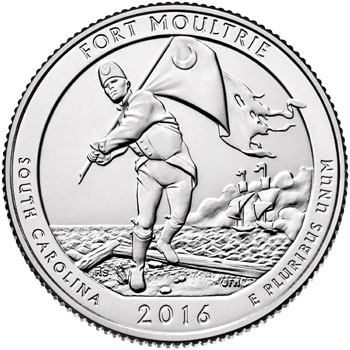 The Fort Moultrie Quarter represented the thirty-fifth overall release within the America the Beautiful Quarters Program. The site represents the state of South Carolina and was federally designated on April 28, 1948.
The reverse design depicts Sergeant William Jasper returning the regimental flag to the ramparts while under attack from a British ship during the Battle of Sullivan's Island on June 28, 1776. The inscriptions include "Fort Moultrie", "South Carolina", "2016", and "E Pluribus Unum". The reverse was designed by United States Mint Artistic Infusion Program artist Richard Scott and sculpted by Joseph Menna.
The Fort Moultrie Quarter was officially released for circulation on February 1, 2016. The Denver Mint struck 142,200,000 and the Philadelphia Mint struck 154,400,000 coins for circulation.
Fort Moultrie Quarter Mintages
2016-D Fort Moultrie Quarter: 142,200,000
2016-P Fort Moultrie Quarter: 154,400,000
2016-S Fort Moultrie Quarter: 966,260
Fort Moultrie Quarter Specifications
Designers: John Flanagan (obverse), Richard Scott (reverse)
Composition: 91.67% copper, 8.33% nickel (clad), 90% silver, 10% copper (silver proof)
Diameter: 24.26 mm

Weight: 5.67 grams

Thickness: 1.75 mm

Edge: Reeded
About Fort Moultrie
The Civil War was one of the most significant growing pains that the United States experienced in its quest to become the largest free nation in the world. While many people know the issues of agriculture and slavery that caused the strained relations between the Northern and Southern states, few people are aware of the exact location where the first shots of the war were fired.
The very first battlefield of the Civil War was none other than the seaside Fort Moultrie, otherwise known as the Fort Sumter National Monument. Few know that while Fort Moultrie was the site of a crushing initial defeat for the Union forces, it was the site of a huge victory over the British troops nearly a century earlier in the American Revolutionary War.
When you visit Fort Sumter National Monument in the port town of Charleston, South Carolina, you will be able to walk amongst the original structures where both Revolutionary and Civil War soldiers fought and died. You will be able to imagine the intense feelings of a battle situation as if you were Captain Abner Doubleday, the soldier responsible for firing the very first shot of the Civil War.
This national monument stands as a reminder of those who fought and died for the freedom of all citizens of this great country. Visitors to the Fort will have the opportunity to participate in programs and tours that will bring the past up close and personal to their daily lives. Learn about why seaside towns like Charleston would prove to be so important to defending America's freedom.