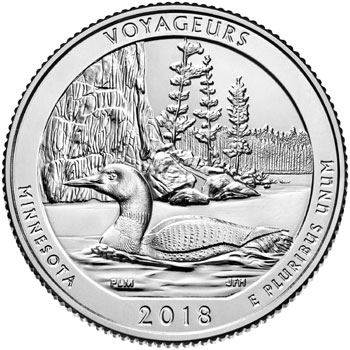 The Voyageurs National Park Quarter was the forty-third overall release within the America the Beautiful Quarters Program. The site represents the state of Minnesota and was federally designated on January 8, 1971.
The reverse design features a common loon with a rock cliff in the background. The rocky shorelines, southern boreal and northern hardwood forests, and open water of the park create a habitat for bald eagles, loons, black bears, moose, and wolves. The inscriptions of the coin include "Voyaguers", "Minnesota", "2018", and "E Pluribus Unum". The reverse was designed by United States Mint Artistic Infusion Program Designer Patricia Lucas-Morris and sculpted by Joseph Menna.
The Voyageurs Quarter was officially released for circulation on June 11, 2018. The Denver Mint struck 197,800,000 and the Philadelphia Mint struck 237,400,000 coins for circulation.
Voyageurs Quarter Mintages
2018-D Voyageurs Quarter: 197,800,000
2018-P Voyageurs Quarter: 237,400,000
2018-S Voyageurs Quarter: 831,560
Voyageurs Quarter Specifications
Designers: John Flanagan (obverse), Patricia Lucas-Morris (reverse)
Composition: 91.67% copper, 8.33% nickel (clad), 90% silver, 10% copper (silver proof)
Diameter: 24.26 mm

Weight: 5.67 grams

Thickness: 1.75 mm

Edge: Reeded
About Voyageurs National Park
To explore many of America's national parks, you must abandon your fancy shoes for hiking boots, and abandon your car or truck for travel by foot or bike. However, at the Voyageurs National Park in Minnesota, visitors will be required to switch their mode of travel to something of the more aquatic kind. This is because Voyageurs is one of the only water-based national parks in the entire country. Visitors to this park are invited to bring or rent canoes, paddle boats and other modes of water based transportation in order to enjoy the shorelines, lakes, and islands that are contained within it. Many years ago, hunters and traders traversed these unique water ways in a very similar way using birch bark canoes that they learned how to make from the Native Americans.
Although Voyageurs is a water based park, there are many areas of dry land that are worth exploring. Because of the way that the ancient tectonic plates moved to form the North American continent, many of the exposed rock that you can touch and sit on in the park are some of the oldest in the world. Take a moment to soak up the sun as you imagine what the park looked like when it was covered in glaciers many thousands of years ago. Because Voyageurs National Park is an interconnected series of lakes, rivers and islands, it is home to a wide variety of wildlife that makes its home in the water, or uses the water to hunt and breed. You can also stroll amongst the cool of the hardwood trees that grow there in abundance.