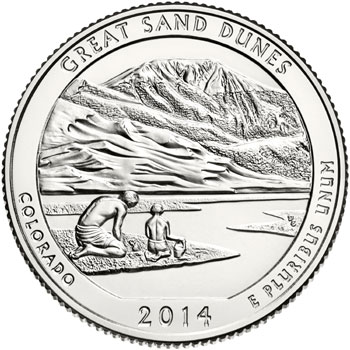 The Great Sand Dunes National Park Quarter represented the twenty-fourth overall release within the America the Beautiful Quarters Program. The site represents the state of Colorado and was federally designated on March 17, 1932.
The reverse design features a father and son playing in the sand next to the creek bed with the distinctive mountains and sand dunes in the background. The inscriptions read "Great Sand Dunes", "Colorado", "2014", and "E Pluribus Unum". The reverse was designed and sculpted by Don Everhart.
The Great Sand Dunes Quarter was officially released for circulation on August 25, 2014. The Denver Mint struck 171,800,000 and the Philadelphia Mint struck 159,600,000 coins for circulation.
Great Sand Dunes Quarter Mintages
2014-D Great Sand Dunes Quarter: 171,800,000
2014-P Great Sand Dunes Quarter: 159,600,000
2014-S Great Sand Dunes Quarter: 1,176,760
Great Sand Dunes Quarter Specifications
Designers: John Flanagan (obverse), Don Everhart (reverse)
Composition: 91.67% copper, 8.33% nickel (clad), 90% silver, 10% copper (silver proof)
Diameter: 24.26 mm

Weight: 5.67 grams

Thickness: 1.75 mm

Edge: Reeded
About Great Sand Dunes National Park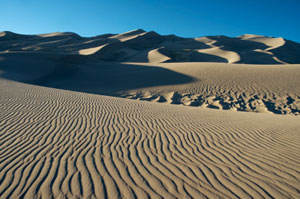 There are few places in the world where you can see make a sand castle, slide down sand dunes, float in a river, and hike through arctic tundra on your way to the top of a thirteen thousand foot high mountain peak, but all of these things and more are possible at the Great Sand Dunes National Park in Colorado. The dunes at the Great Sand Dunes National Park are some of the most unique in the world. The landscape is surrounded by mountains, the home of wetlands, and the site of seasonal streams and permanent lakes.
If you're wondering how in the world there came to be giant sand dunes in the middle of Colorado, you're not alone. Scientists are still unraveling the geological record that tells the tale of how the dunes came to be smack in the middle of the Sangre de Cristo mountain range.
In 2002, geologic researchers discovered that a large lake once covered the entire San Luis valley between the San Juan and Sangre de Cristo mountains. When climate change slowly started to cause the lake to shrink and dry up, the sandy lake bottom was exposed to the sweeping winds that came through the valley. Over many years, erosion and wind cause the tiny grains of sand to pile up into the dunes that we see today.
The area, including the mountains that surround it was first protected by the federal government in March of 1932. In 2000, the federal government purchased 97,000 acres of surrounding land, tripling the size of the protected area. At that point it also become a National Park and Preserve with the intention of preserving the unique American landscape.