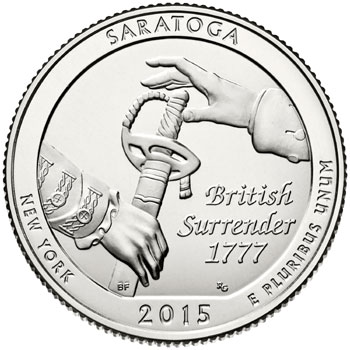 The Saratoga National Historical Park Quarter represented the thirtieth overall release within the America the Beautiful Quarters Program. The site represents the state of New York and was federally designated on June 1, 1938.
The reverse design is a close–up of the moment General John Burgoyne surrendered his sword to General Horatio Gates, a pivotal moment many believe marked the beginning of the end of the American Revolutionary War. The inscriptions read "British Surrender 1777", "Saratoga", "New York", "2015", and "E Pluribus Unum". The reverse was designed by Artistic Infusion Program artist Barbara Fox and sculpted by United States Mint Sculptor–Engraver Renata Gordon.
The Saratoga Quarter was officially released for circulation on February 9, 2015. The Denver Mint struck 215,800,000 and the Philadelphia Mint struck 223,000,000 coins for circulation.
Saratoga Quarter Mintages
2015-D Saratoga Quarter: 215,800,000
2015-P Saratoga Quarter: 223,000,000
2015-S Saratoga Quarter: 1,045,500
Saratoga Quarter Specifications
Designers: John Flanagan (obverse), Barbara Fox (reverse)
Composition: 91.67% copper, 8.33% nickel (clad), 90% silver, 10% copper (silver proof)
Diameter: 24.26 mm

Weight: 5.67 grams

Thickness: 1.75 mm

Edge: Reeded
About Saratoga National Historical Park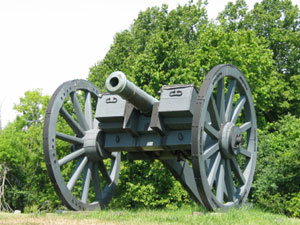 The federal government incorporated Saratoga National Historical Park into the national parks system in 1938. When this decision was made by Congress, they ensured that an important area and battlefield from the American Revolutionary War would remain unspoiled so that future generations could reflect on its significance.
Originally, the area was recognized as a New York State historic preserve in 1927, as it marks the spot where, in 1777, American forces were met with the much better equipped British army in a heated battle. Although the Americans were merely revolutionary colonists, they managed to defeat the British forces on that battlefield, successfully forcing the British officers to surrender as a result.
This key victory won the American troops the respect of the French government, which officially recognized them as an independent nation and became allies of the American army. Saratoga National Historical Park contains many monuments and historic houses where visitors can imagine what it must have felt like to be a soldier on that momentous day. Artifacts from the battlefields are also on display in the park's unique museum.