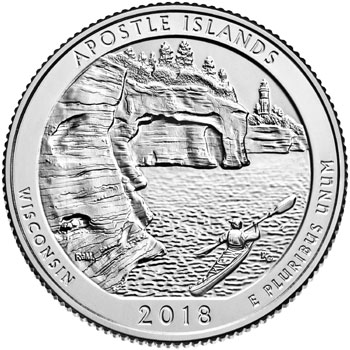 The Apostle Islands National Lakeshore Quarter was the forty-second overall release within the America the Beautiful Quarters Program. The site represents the state of Wisconsin and was federally designated on September 26, 1970.
The reverse design depicts the sea caves at Devils Island with the lighthouse in the background and a kayaker paddling in the foreground. The lakeshore includes 21 islands within Lake Superior and a 12-mile strip of coastline. The inscriptions on the coin read "Apostle Islands", "Wisconsin", "2018", and "E Pluribus Unum". The reverse was designed by United States Mint Artistic Infusion Program Designer Richard Masters and sculpted by Renata Gordon.
The Apostle Islands Quarter was officially released for circulation on April 9, 2018. The Denver Mint struck 216,600,000 and the Philadelphia Mint struck 223,200,000 coins for circulation.
Pictured Rocks Quarter Mintages
2018-D Apostle Islands Quarter: 216,600,000
2018-P Apostle Islands Quarter: 223,200,000
2018-S Apostle Islands Quarter: 871,820
Pictured Rocks Quarter Specifications
Designers: John Flanagan (obverse), Richard Masters (reverse)
Composition: 91.67% copper, 8.33% nickel (clad), 90% silver, 10% copper (silver proof)
Diameter: 24.26 mm

Weight: 5.67 grams

Thickness: 1.75 mm

Edge: Reeded
About Pictured Rocks National Lakeshore
Many people have pegged Wisconsin as a place of frigid winters, beer and cheese. While these may be the things that people love about living in this mid-western state, there is much more to be discovered under the surface. Although it may be long and cold, winter is not the only season enjoyed by residents of Wisconsin, and in the summer many people take to the water to enjoy the shores of Lake Superior. Modern vacationers are not the only ones that have been drawn to the shores and beaches of this amazing body of water; in the early days of the country, settlers lived and worked on the Apostle Islands, which are lovingly referred to as the Jewels of Lake Superior.
Dedicated for protection by the federal government in 1970, the Apostle Islands National Lakeshore is unlike any other national park or historical area that you will ever visit. First of all, the Lakeshore is home to more authentic lighthouses than any other National Park Service area. Visitors will be able to observe eight of these historic towers located on the six Apostle Islands. As visitors walk around the trails of the Apostle Islands exploring their rugged shores, they will be able to go on a treasure hunt for the evidence that early inhabitants have left behind. While some of the building structures, and the light houses, remain intact, a careful investigation of the forest floor will reveal more foundations, stones and iron tools that were used by the men, women, and children that used to live there.