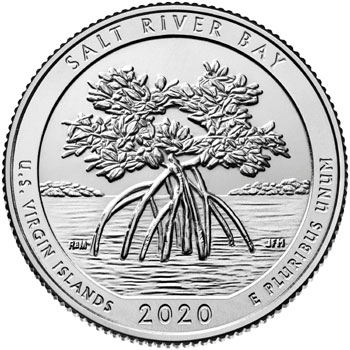 The Salt River Bay National Historical Park Quarter was the fifty-third overall release within the America the Beautiful Quarters Program. The site represents the territory of the U.S. Virgin Islands and was federally designated on February 24, 1992.
The reverse design features a depiction of a red mangrove tree in an early stage of its life cycle, as it evolves from a small plant to an adult tree. The design is intended to bring awareness to the park's endangered mangrove forests. The inscriptions read "Salt River Bay", "U.S. Virgin Islands", "2020", and "E Pluribus Unum". The reverse was designed by United States Mint Artistic Infusion Program Designer Richard Masters and engraved by Joseph Menna.
The Salt River Bay Quarter was officially released for circulation on June 1, 2020. The Denver Mint struck 515,000,000 and the Philadelphia Mint struck 580,200,000 coins for circulation. Similar to the prior year, the West Point Mint struck 2,000,000 coins for release into circulation. This release marked the highest mintage of the entire series, with over one billion coins struck.
Salt River Bay Quarter Mintages
2020-D Salt River Bay Quarter: 515,000,000
2020-P Salt River Bay Quarter: 580,200,000
2020-W Salt River Bay Quarter: 2,000,000
Salt River Bay Quarter Specifications
Designers: John Flanagan (obverse), Richard Masters (reverse)
Composition: 91.67% copper, 8.33% nickel (clad), 90% silver, 10% copper (silver proof)
Diameter: 24.26 mm

Weight: 5.67 grams

Thickness: 1.75 mm

Edge: Reeded
About National Park of American Samoa
Many people dream of escaping to a tropical island or beautiful beach when they have a few days to escape from the hustle and bustle of their busy lives. Many people don't realize that they can also take a unique trip into the history of our country by visiting the Salt River Bay National Historical Park and Ecological Preserve in the U.S. Virgin Islands. Unlike many historical areas that tell the story of people or events that took place many years ago, the Salt River Bay Park and preserve act as a living memorial to the unique people and wildlife of St. Croix. Here Americans can experience a tropical wonderland without technically having to leave the country!
Officially incorporated into the National Park System in 1992, the Salt River Bay National Historical Park and Ecological Preserve is a combination of land and sea that will be preserved in its natural state for the enjoyment of many generations to come. If you visit the Park for an adventure, you might be surprised to learn that you will be able to experience life much like the early colonists that inhabited this island did. There are coral reefs to be gazed at while you snorkel in the warm waters, and colonial houses to be explored as you think about what it would have been like to live here hundreds of years ago. Mangroves and submarine canyons are also a unique treat of these one of a kind Historical Park and Ecological Preserve.