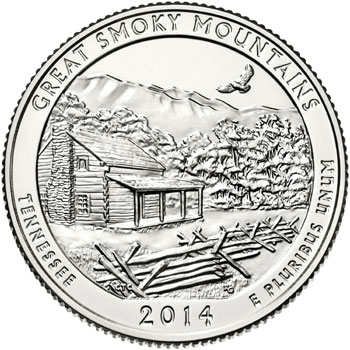 The Great Smoky Mountains National Park Quarter represented the twenty-first overall release within the America the Beautiful Quarters Program. The site represents the state of Tennessee and was federally designated on May 22, 1926.
The reverse design carries a depiction of a log cabin that features architectural elements from several historic homes preserved within the park. A segment of lush green forest appears in the background with a hawk circling above. The inscriptions surrounding the image read "Great Smoky Mountains", "Tennessee", "2014", and "E Pluribus Unum". The reverse was designed by United States Mint Artistic Infusion Program artist Chris Costello and engraved by United States Mint Sculptor–Engraver Renata Gordon.
The Great Smoky Mountains Quarter was officially released for circulation on January 27, 2014. The Denver Mint struck 99,400,000 and the Philadelphia Mint struck 73,200,000 coins for circulation.
Great Smoky Mountains Quarter Mintages
2014-D Great Smoky Mountains Quarter: 99,400,000
2014-P Great Smoky Mountains Quarter: 73,200,000
2014-S Great Smoky Mountains Quarter: 1,360,780
Great Smoky Mountains Quarter Specifications
Designers: John Flanagan (obverse), Chris Costello (reverse)
Composition: 91.67% copper, 8.33% nickel (clad), 90% silver, 10% copper (silver proof)
Diameter: 24.26 mm

Weight: 5.67 grams

Thickness: 1.75 mm

Edge: Reeded
About Great Smoky Mountains National Park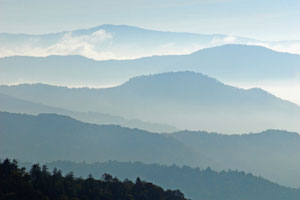 It is no secret that National Parks are typically places of great historical and cultural significance, or great visual beauty and diversity. The Great Smoky Mountains National Park is no exception. The mist covered mountains are some of the most lush and green in the entire world. The Smoky Mountains are thought to be the oldest mountains in the country, as scientists to believe their formation began around 300 billion years ago.
Unlike many other mountain ranges, the Great Smokies are situated along a vertical plain, meaning that the animals that lived on their slopes and valleys could migrate north or south depending on the climate changes. Because of its unique geographical orientation, the mountain range is home to an extremely diverse array of species. Researchers estimate that around ninety thousand distinct species of plants and animals make their homes within its borders.
Those who visit Great Smoky Mountains National Park are often surprised at the dense humidity and moisture that often characterize its climate. The forest floor is lush and thick with plant life, while the rivers, trees and soil soak up the moisture that comes from many days of rainfall throughout the year. In addition to being officially recognized as a protected area in 1926, the Great Smoky Mountains National Park has been named an International Biosphere Reserve by the United Nations.