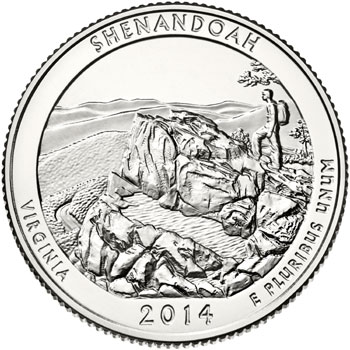 The Shenandoah National Park Quarter represented the twenty-second overall release within the America the Beautiful Quarters Program. The site represents the state of Virginia and was federally designated on May 22, 1926.
The reverse design depicts a hiker taking in the view from Little Stony Man summit. The inscriptions surrounding the image read "Shenandoah", "Virginia", "2014", and "E Pluribus Unum". The reverse was designed and sculpted by Phebe Hemphill.
The Shenandoah Quarter was officially released for circulation on November 4, 2014. The Denver Mint struck 197,800,000 and the Philadelphia Mint struck 112,800,000 coins for circulation.
Shenandoah Quarter Mintages
2014-D Shenandoah Quarter: 197,800,000
2014-P Shenandoah Quarter: 112,800,000
2014-S Shenandoah Quarter: 1,266,720
Shenandoah Quarter Specifications
Designers: John Flanagan (obverse), Phebe Hemphill (reverse)
Composition: 91.67% copper, 8.33% nickel (clad), 90% silver, 10% copper (silver proof)
Diameter: 24.26 mm

Weight: 5.67 grams

Thickness: 1.75 mm

Edge: Reeded
About Shenandoah National Park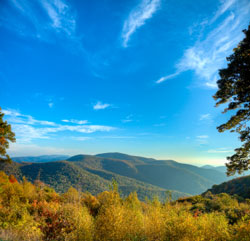 The peaks and ridges of the Blue Ridge Mountains are tangible evidence of the way that the Earth's crust was crinkled and split by molten magma beneath it so many eons ago. Slowly this magma moved towards the surface, cooling and twisting until it became the pristine mountain tops that we gaze upon today. It would be thousands of years until the first European settlers would venture up into these Blue Mountains, looking for animals to hunt and trap, and later for valleys and hollows in which to set up their homesteads.
Today, the beautiful Shenandoah National Park, which was first dedicated in May of 1926, resides only seventy-five miles from the bustling urban center that is our nation's capital, Washington D.C. Shenandoah is living proof of the power of committed citizens who believe in preserving and protecting nature. Many of the trails, structures and learning areas of Shenandoah National Park were built by the Citizen Conservation Corps, who also helped to find new homes for the over four hundred mountain families that had to be relocated when the park was closed to human inhabitants.
Those who visit Shenandoah National Park will be treated to dense forest areas where the canopy of trees is alive with the calls and songs of over 200 species of birds. Hikers can test their stamina against portions of the Appalachian trail that run through the park, and those who enjoy exploring the historical context of these parks can listen to interpretive rangers explain the lifestyles of the earliest inhabitants of the Blue Ridge Mountains in Virginia.