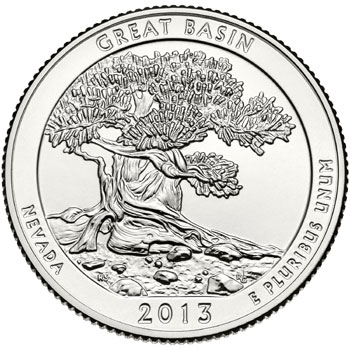 The Great Basin National Park Quarter represented the eighteenth overall release within the America the Beautiful Quarters Program. The site represents the state of Nevada and was federally designated on January 24, 1922.
The reverse design of the coin by Ronald D. Sanders features a single Bristlecone Pine tree in the rocky moraines where the trees grow. Some Bristlecone pines have lived for nearly 5,000 years, an age far greater than any other living organism known. Inscriptions include "Great Basin", "Nevada", "2013", and "E Pluribus Unum".
The Great Basin Quarter was officially released for circulation on June 10, 2013. The Denver Mint struck 141,400,000 and the Philadelphia Mint struck 122,400,000 coins for circulation.
Numismatic products offered by the United States Mint included bags and rolls of circulating quality coins bearing the "P", "D", or "S" mint marks. The quarters were also incorporated into annual sets and America the Beautiful Quarters coins sets.
Great Basin Quarter Mintages
2013-D Great Basin Quarter: 141,400,000
2013-P Great Basin Quarter: 122,400,000
2013-S Great Basin Quarter: 1,316,500
Great Basin Quarter Specifications
Designers: John Flanagan (obverse), Ronald D. Sanders (reverse)
Composition: 91.67% copper, 8.33% nickel (clad), 90% silver, 10% copper (silver proof)
Diameter: 24.26 mm

Weight: 5.67 grams

Thickness: 1.75 mm

Edge: Reeded
About Great Basin National Park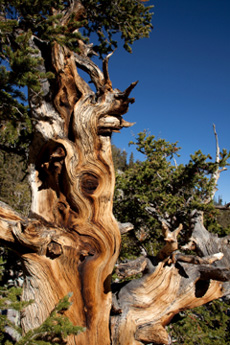 The Great Basin National Park in Nevada has been called many things, by many people, and not all of them have been positive. Barren, wasteland and desolate are just some of the words that explorers and historians have used to describe this area. However, sometimes you just have to look at little bit harder to see a place's beauty, and Great Basin is one of those places.
Despite being shunned by some of the thinnest skinned adventure seekers, Great Basin has been recognized by scientists and archaeologists as one of the culturally diverse and interesting parks in the country. For this reason, it was officially protected by the government for the first time in January of 1922.
One of the most interesting facts about the Great Basin National Park is that it is one of the few places where you can really observe the night sky in all of its glory. There are many people that think they can go out into their backyards to look at the stars and constellations, but what they don't know is that light pollution from buildings, cars and streetlights is preventing them from seeing anything but a small percentage of the heavenly bodies. When you journey to Great Basin, you will learn how dark the night sky can really be, and as a result, you just might get to see the Milky Way with your naked eyes. The Great Basin National Park is also home to some of the most interesting forest and cave habitats that are just waiting to be explored.