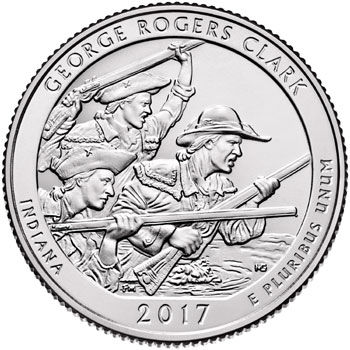 The George Rogers Clark National Historical Park Quarter was the fortieth overall release within the America the Beautiful Quarters Program. The site represents the state of Indiana and was federally designated on July 23, 1966.
The reverse design features George Rogers Clark leading his men through the flooded plains approaching Fort Sackville during the American Revolutionary War. Clark's surprise capture of the fort was a significant victory which served to limit British control of America's western frontier. The inscriptions read "George Rogers Clark", "Indiana", "2017", and "E Pluribus Unum". The reverse was designed by United States Mint Artistic Infusion Program Designer Frank Morris and sculpted by Mint Sculptor-Engraver Michael Gaudioso.
The George Rogers Clark Quarter was officially released for circulation on November 13, 2017. The Denver Mint struck 180,800,000 and the Philadelphia Mint struck 196,600,000 coins for circulation.
George Rogers Clark Quarter Mintages
2017-D George Rogers Clark Quarter: 180,800,000
2017-P George Rogers Clark Quarter: 196,600,000
2017-S George Rogers Clark Quarter: 919,060
George Rogers Clark Quarter Specifications
Designers: John Flanagan (obverse), Frank Morris (reverse)
Composition: 91.67% copper, 8.33% nickel (clad), 90% silver, 10% copper (silver proof)
Diameter: 24.26 mm

Weight: 5.67 grams

Thickness: 1.75 mm

Edge: Reeded
About George Rogers Clark National Historical Park
The improbable success of the poorly equipped American Revolutionary Army over the formidable British troops during the American Revolutionary War is one of the greatest testaments to the ability of a motivated few to prevail over strong opposition. Despite the fact that many of the original American colonists were untrained farmers and poorly educated tradesman, their determination to be free from the taxes and oppression of the British government was strong, and thanks to their efforts, the American nation was born. George Rogers Clark was one of the determined few that would lead his Kentucky Militia in a battle against the Fort Sackville in Indiana, and would ultimately be responsible for taking control of the fort away from the British.
The conquest of Clark and his faithful soldiers is forever commemorated at George Rogers Clark National Historical Park in Indiana, a place that is designed to allow visitors to reflect on the sacrifices and bravery of so many of the citizens that fought for freedom when this country was still so young. Although the actual location of Fort Sackville is not really known at this time, the Clark Memorial is a wonderful place to learn more about this soldier that was not afraid to fight for the freedom and control of the American west. The memorial is a circular structure that is more than eighty feet high and over ninety feet across at the base. Inside, visitors are able to gaze at large painted murals that depict battlefield situations, as well as statues of soldiers, and quotations of George Rogers Clark himself.