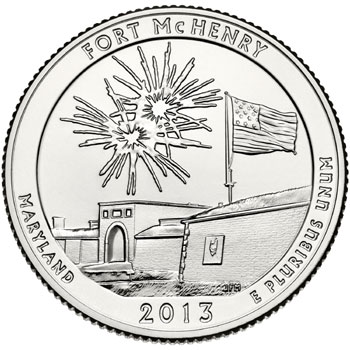 The Fort McHenry National Monument and Historic Shrine Quarter represented the nineteenth overall release within the America the Beautiful Quarters Program. The site represents the state of Maryland and was federally designated on March 3, 1925.
The reverse design by Joseph Menna represents the site during the Defenders Day celebration. The fort is depicted with fireworks overhead to symbolize the "rocket's red glare". Inscriptions around the periphery read "Fort McHenry", "Maryland", "2013", and "E Pluribus Unum".
The Fort McHenry Quarter was officially released for circulation on August 26, 2013. The Denver Mint would strike 151,400,000 coins, while the Philadelphia Mint would strike 120,000,000 coins.
In addition to release for general circulation, the United States Mint also offered a variety of numismatic products featuring the coin. This included numismatic bags and rolls of coins with the "P", "D", or "S" mint mark, various annual sets, and collector sets. Finally, a five ounce silver version of the coin was released in both bullion and collector formats.
Fort McHenry Quarter Mintages
2013-D Fort McHenry Quarter: 151,400,000
2013-P Fort McHenry Quarter: 120,000,000
2013-S Fort McHenry Quarter: 1,313,680
Fort McHenry Quarter Specifications
Designers: John Flanagan (obverse), Joseph Menna (reverse)
Composition: 91.67% copper, 8.33% nickel (clad), 90% silver, 10% copper (silver proof)
Diameter: 24.26 mm

Weight: 5.67 grams

Thickness: 1.75 mm

Edge: Reeded
About Fort McHenry National Monument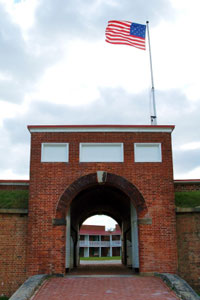 Every American learns the words to America's national anthem "The Star Spangled Banner" at some point during their childhood. Not everyone is aware of the exact circumstances that inspired a young Francis Scott Key to pen the words to this memorable song.
During the war of 1812, Key was holed up inside a British attack ship while Maryland's Fort McHenry was being bombarded with gunfire and missiles. When the smoked cleared in the morning, Key was overjoyed to see that his country's flag was still waving proudly over the fort, and he was moved to pen the historic poem that would soon become the national anthem.
Fort McHenry was completed in 1802, and was built in the shape of a five pointed star. This architectural style was quite popular at the time, as it allowed each guard tower to be seen by at least two other guard towers. When necessary, the entirety of the Fort could be protected by as few as five men stationed in the points of the star.
Fort McHenry is a structure of great significance to the early history of the United States, and as a result it was protected as a national monument in 1925. Visitors to the monument and historical shrine can spend a day imagining life as a revolutionary, and might even get to assist with the changing of the flag.