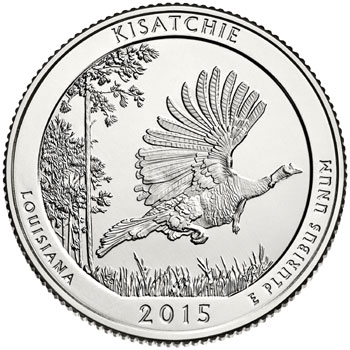 The Kisatchie National Forest Quarter represented the twenty-seventh overall release within the America the Beautiful Quarters Program. The site represents the state of Louisiana and was federally designated on June 3, 1936.
The reverse design features a wild turkey in flight over blue stem grass with long leaf pine in the background. The inscriptions read "Kisatchie", "Louisiana", "2015", and "E Pluribus Unum". The reverse was designed by Artistic Infusion Program artist Susan Gamble and sculpted by United States Mint Sculptor–Engraver Joseph Menna.
The Kisatchie Quarter was officially released for circulation on April 13, 2015. The Denver Mint struck 379,600,000 and the Philadelphia Mint struck 379,200,000 coins for circulation.
Kisatchie Quarter Mintages
2015-D Kisatchie Quarter: 379,600,000
2015-P Kisatchie Quarter: 379,200,000
2015-S Kisatchie Quarter: 1,099,380
Kisatchie Quarter Specifications
Designers: John Flanagan (obverse), Susan Gamble (reverse)
Composition: 91.67% copper, 8.33% nickel (clad), 90% silver, 10% copper (silver proof)
Diameter: 24.26 mm

Weight: 5.67 grams

Thickness: 1.75 mm

Edge: Reeded
About Kisatchie National Forest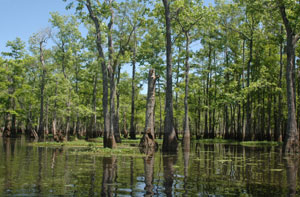 You might be surprised to learn that there are vast areas of forest in the southern United States, and one of the most splendid is protected as the Kisatchie National Forest, located in Louisiana. For those southern adventurers that want get away from it all and reconnect with nature the Kisatchie National Forest provides the perfect setting for recreation and exploration.
Originally recognized by the federal government as an area of preservation in June of 1936, the Kisatchie National Forest is home to a wide variety of recreational opportunities and wilderness areas. In fact, the Kisatchie Hills Wilderness is over eight thousand square miles of protected forest, canyon, and bayou country where people can hike, camp, picnic and ride horses. Locals often refer to the wilderness area as the Little Grand Canyon, given that its carved canyon and riverbeds resemble the much larger formation in Arizona.
Whether you prefer to spend your hot summer days enjoying white sand beaches and dipping your toes in a gurgling brook, or climbing in and around the many miles of interpretive nature trails learning more about the native species that call the Kisatchie National Forest their home, you will be able to satisfy all your outdoor desires and then some. Ancient bald cypress groves and stands of old growth pine still flourish in the park, and the adventures they hold are yours to discover.