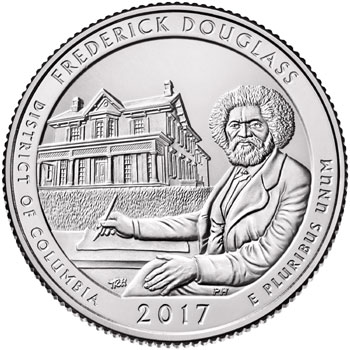 The Frederick Douglass National Historic Site Quarter was the thirty-seventh overall release within the America the Beautiful Quarters Program. The site represents the District of Columbia and was federally designated on September 5, 1962.
The reverse design depicts Frederick Douglass seated at a writing desk with his home in Washington, D.C. in the background. Douglass was an abolitionist, civil rights advocate, author, and statesman who wrote and spoke against slavery. Inscriptions read "Frederick Douglass", "District of Columbia", "2017", and "E Pluribus Unum". The reverse was designed by Artistic Infusion Program Designer Thomas Hipschen and sculpted by Phebe Hemphill.
The Frederick Douglass Quarter was officially released for circulation on April 3, 2017. The Denver Mint struck 185,800,000 and the Philadelphia Mint struck 184,800,000 coins for circulation.
Frederick Douglass Quarter Mintages
2017-D Frederick Douglass Quarter: 185,800,000
2017-P Frederick Douglass Quarter: 184,800,000
2017-S Frederick Douglass Quarter: 934,940
Frederick Douglass Quarter Specifications
Designers: John Flanagan (obverse), Thomas Hipschen (reverse)
Composition: 91.67% copper, 8.33% nickel (clad), 90% silver, 10% copper (silver proof)
Diameter: 24.26 mm

Weight: 5.67 grams

Thickness: 1.75 mm

Edge: Reeded
About Frederick Douglass National Historic Site
The site of our nation's capital is a culturally diverse and historically significant area. You might think that it would be hard to decide which of its many historic sites to commemorate in a special way. However, it is a testament to the rich cultural and ethnic fabric of this country that the Frederick Douglass National Historic Site has been chosen to represent the District of Columbia in this unique way. While many people remember the European settlers and pioneers that had so much to do with the population and development of this country, it is an unfortunate truth that the cultural minorities, like Native Americans and African Americans, that had so much to do with these things are so often forgotten.
Frederick Douglass was one of the most famous African Americans of the entire nineteenth century, and the Frederick Douglass National Historic Site was created in order to commemorate the legacy of his work to abolish the slavery of the African people in the early days of this country. Douglass was one of the few slaves that worked hard to be able to free himself from a life of slavery, and then, instead of trying to forget the life that he had come from, he worked the rest of his life to do the same for millions of other African American slaves. The location of the Frederick Douglass National Historic site, which was officially recognized in 1962, is none other than Cedar Hill, a home that he purchased in 1877. The life of Douglass stands as a reminder that we should never be afraid to fight for what we believe in.