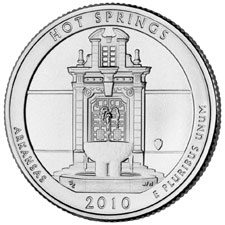 During the course of the eleven year series, America the Beautiful Quarters were released at a rate of five different designs per year with a single design released in the final year. The order of release for the coins was determined based on the order in which the national sites featured on the coins were federally designated. For the first few years of the program, an official launch ceremony was held at the site around the date the coins were released into circulation.
The first America the Beautiful Quarter featuring Hot Springs National Park of Arkansas was released on January 26, 2010. This was followed by the four additional releases for the year at roughly equal intervals. A similar schedule was followed for subsequent releases of the series, culminating with the final coin featuring Tuskegee Airmen National Historic Site of Alabama released on January 4, 2021.
As was the case for the previous State Quarters Program, the constant stream of new designs kept Americans watching their pocket change for the newest releases. A multitude of numismatic products were also released in coordination with the circulation release, providing collectors with many options to supplement their collections.
2010 America the Beautiful Quarters
Hot Springs National Park Quarter

January 26, 2010

Yellowstone National Park Quarter

April 1, 2010

Yosemite National Park Quarter

June 6, 2010

Grand Canyon National Park Quarter

August 20, 2010

Mount Hood National Forest Quarter

November 15, 2010

2011 America the Beautiful Quarters
Gettysburg National Military Park Quarter

January 24, 2011

Glacier National Park Quarter

April 4, 2011

Olympic National Park Quarter

June 13, 2011

Vicksburg National Military Park Quarter

August 29, 2011

Chickasaw National Recreation Area Quarter

November 14, 2011

2012 America the Beautiful Quarters
El Yunque National Forest Quarter

January 23, 2012

Chaco Culture National Historical Park Quarter

April 2, 2012

Acadia National Park Quarter

June 11, 2012

Hawaii Volcanoes National Park Quarter

August 27, 2012

Denali National Park and Preserve Quarter

November 5, 2012

2013 America the Beautiful Quarters
White Mountain National Forest Quarter

January 28, 2013

Perry's Victory and International Peace Memorial Quarter

April 1, 2013

Great Basin National Park Quarter

June 10, 2013

Fort McHenry National Monument Quarter

August 26, 2013

Mount Rushmore National Memorial Quarter

November 4, 2013

2014 America the Beautiful Quarters
Great Smoky Mountains National Park Quarter

January 27, 2014

Shenandoah National Park Quarter

March 31, 2014

Arches National Park Quarter

June 9, 2014

Great Sand Dunes National Park and Preserve Quarter

August 25, 2014

Everglades National Park Quarter

November 3, 2014

2015 America the Beautiful Quarters
Homestead National Monument of America Quarter

February 9, 2015

Kisatchie National Forest Quarter

April 13, 2015

Blue Ridge Parkway Quarter

June 8, 2015

Bombay Hook National Wildlife Refuge Quarter

September 14, 2015

Saratoga National Historical Park Quarter

November 16, 2015

2016 America the Beautiful Quarters
Shawnee National Forest Quarter

February 1, 2016

Cumberland Gap National Historical Park Quarter

April 4, 2016

Harpers Ferry National Historical Park Quarter

June 6, 2016

Theodore Roosevelt National Park Quarter

August 29, 2016

Fort Moultrie Quarter

November 14, 2016

2017 America the Beautiful Quarters
Effigy Mounds National Monument Quarter

February 6, 2017

Frederick Douglass National Historic Site Quarter

April 3, 2017

Ozark National Scenic Riverways Quarter

June 5, 2017

Ellis Island Quarter

August 28, 2017

George Rogers Clark National Historical Park Quarter

November 13, 2017

2018 America the Beautiful Quarters
Pictured Rocks National Lakeshore Quarter

February 5, 2018

Apostle Islands National Lakeshore Quarter

April 9, 2018

Voyageurs National Park Quarter

June 11, 2018

Cumberland Island National Seashore Quarter

August 27, 2018

Block Island National Wildlife Refuge Quarter

November 13, 2018

2019 America the Beautiful Quarters
Lowell National Historical Park Quarter

February 4, 2019

American Memorial Park Quarter

April 1, 2019

War in the Pacific National Historical Park Quarter

June 3, 2019

San Antonio Missions National Historical Park Quarter

August 26, 2019

Frank Church–River of No Return Wilderness Quarter

November 4, 2019

2020 America the Beautiful Quarters
National Park of American Samoa Quarter
February 13, 2020
Weir Farm National Historic Site Quarter
April 6, 2020
Salt River Bay National Historical Park Quarter
June 1, 2020
Marsh-Billings-Rockefeller National Historical Park Quarter
August 31, 2020
Tallgrass Prairie National Preserve Quarter
November 16, 2020
2021 America the Beautiful Quarters
Tuskegee Airmen National Historic Site Quarter
January 4, 2021