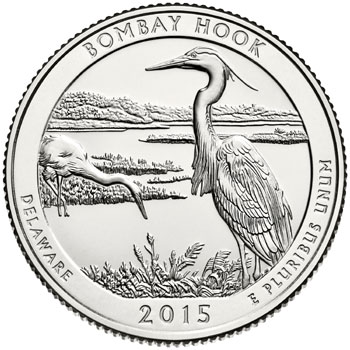 The Bombay Hook National Wildlife Refuge Quarter represented the twenty-ninth overall release within the America the Beautiful Quarters Program. The site represents the state of Delaware and was federally designated on June 22, 1937.
The reverse design two animals found in the wildlife refuge. Specifically, the coin depicts a great blue heron and a great egret in a salt marsh. The inscriptions read "Bombay Hook", "Delaware", "2015", and "E Pluribus Unum". The reverse was designed by Artistic Infusion Program artist Joel Iskowitz and sculpted by Phebe Hemphill.
The Bombay Hook Quarter was officially released for circulation on September 14, 2015. The Denver Mint struck 206,400,000 and the Philadelphia Mint struck 275,000,000 coins for circulation.
Bombay Hook Quarter Mintages
2015-D Bombay Hook Quarter: 206,400,000
2015-P Bombay Hook Quarter: 275,000,000
2015-S Bombay Hook Quarter: 1,013,920
Bombay Hook Quarter Specifications
Designers: John Flanagan (obverse), Joel Iskowitz (reverse)
Composition: 91.67% copper, 8.33% nickel (clad), 90% silver, 10% copper (silver proof)
Diameter: 24.26 mm

Weight: 5.67 grams

Thickness: 1.75 mm

Edge: Reeded
About Bombay Hook National Wildlife Refuge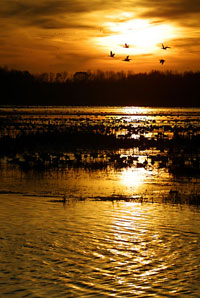 When the weather starts to get cooler, and the planet turns toward winter in the northern hemisphere, people typically comment on the fact that birds are flying south for the winter. But how many times have you stopped to think about where those birds actually stay and rest during their trip to the southern climates for the winter? Established by the federal government in the summer of 1937, the Bombay Hook National Wildlife Refuge in Delaware is one of the places that have been set aside as a resting and breeding ground for the many types of birds that pass over it during their yearly migrations.
The Bombay Hook National Wildlife Refuge is unique in that it's almost sixteen thousand miles of protected areas that comprise one of the largest tracts of untouched tidal salt marsh in the entire mid-Atlantic region. The terrain of the Refuge is very flat, as you might expect from marsh land that is at most only ten feet above sea level. While this might not make for the most exciting hiking, it is perfect for the birds that are looking for a quiet place to rest and feed while they are on their long journeys.
One of the biggest problems that have resulted from beach front property development during the last few decades is that this valuable salt marsh habitats is being destroyed and birds and finding themselves without their familiar surroundings to breed. The Bombay Hook National Wildlife Refuge is part of a huge chain of similar refuges that extend from the shores of Canada to the Gulf of Mexico.