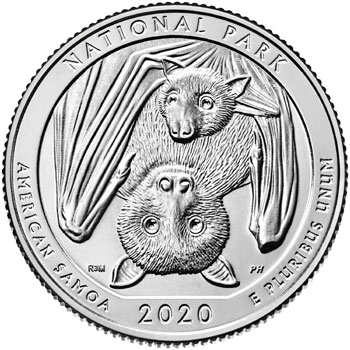 The National Park of American Samoa Quarter was the fifty-first overall release within the America the Beautiful Quarters Program. The site represents the territory of American Samoa and was federally designated on October 31, 1988.
The reverse design depicts a Samoan Fruit Bat mother hanging in a tree with her pup. The design is intended to promote awareness of the species' threatened status due to habitat loss and commercial hunting. The inscriptions read "National Park", "American Samoa", "2020", and "E Pluribus Unum". The reverse was designed by United States Mint Artistic Infusion Program Designer Richard Masters and engraaved by Phebe Hemphill.
The National Park Quarter was officially released for circulation on February 13, 2020. The Denver Mint struck 212,200,000 and the Philadelphia Mint struck 286,000,000 coins for circulation. Similar to the prior year, the West Point Mint struck 2,000,000 coins for release into circulation.
National Park Quarter Mintages
2020-D National Park Quarter: 212,200,000
2020-P National Park Quarter: 286,000,000
2020-W National Park Quarter: 2,000,000
National Park Quarter Specifications
Designers: John Flanagan (obverse), Richard Masters (reverse)
Composition: 91.67% copper, 8.33% nickel (clad), 90% silver, 10% copper (silver proof)
Diameter: 24.26 mm

Weight: 5.67 grams

Thickness: 1.75 mm

Edge: Reeded
About National Park of American Samoa
Some of the most exciting national parks in the National Park Service directory are those that preserve a habitat that is not necessarily native to the contiguous United States. Many of these unique habitats can be found in the tropical territories of several islands and shorelines. The National Park of American Samoa is one of these special places where we can experience beaches, palm trees and unique types of wildlife in their own native habitats. Everything about American Samoa is unique and delicate, from the coral reefs to the flying foxes that make their homes among the palm trees and jungle plants.
If you are unfamiliar with the Samoan culture, you should know that they are one of the oldest Polynesian cultures still in existence. The very first Samoans were residents of Asia that came across the sea to the Samoan islands over three thousand years ago. Although the National Park of American Samoa was officially recognized by the federal government in 1988, the entirety of the lands that the park resides on are only on lease from the ten villages that actually own them. This is a most gracious gesture from these proud people that have maintained their unique way of life for thousands of years. Although some of the facilities at the National Park of American Samoa can be considered primitive the park more than makes up for this deficiency in its breathtaking scenery. Visitors to the park have the opportunity to feel the waters of the South Pacific and explore the colorful reefs that are located off the shore.