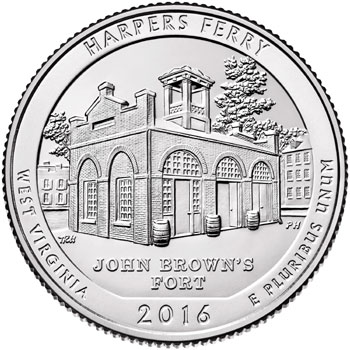 The Harpers Ferry National Historical Park Quarter represented the thirty-third overall release within the America the Beautiful Quarters Program. The site represents the state of West Virginia and was federally designated on June 30, 1944.
The design features John Brown's Fort, the site of John Brown's last stand during his raid on the Harper's Ferry Armory. The inscriptions include "John Brown's Fort", "Harpers Ferry", "West Virginia", "2016", and "E Pluribus Unum". The reverse was designed by Artistic Infusion Program artist Thomas Hipschen and sculpted by United States Mint Sculptor–Engraver Phebe Hemphill.
The Harpers Ferry Quarter was officially released for circulation on June 6, 2016. The Denver Mint struck 424,000,000 and the Philadelphia Mint struck 434,630,000 coins for circulation.
Harpers Ferry Quarter Mintages
2016-D Harpers Ferry Quarter: 424,000,000
2016-P Harpers Ferry Quarter: 434,630,000
2016-S Harpers Ferry Quarter: 1,035,840
Harpers Ferry Quarter Specifications
Designers: John Flanagan (obverse), Thomas Hipschen (reverse)
Composition: 91.67% copper, 8.33% nickel (clad), 90% silver, 10% copper (silver proof)
Diameter: 24.26 mm

Weight: 5.67 grams

Thickness: 1.75 mm

Edge: Reeded
About Harpers Ferry National Historical Park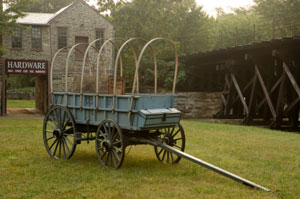 There are few things that can make historical events come alive for the younger generation of Americans than the opportunity to see historically accurate reenactments of the way that people used to live and work in the early days of the country. This is exactly the opportunity that is provided by a visit to Harpers Ferry National Historical Park in West Virginia.
When you set foot in this unique historical park, you will have the pleasure of observing how people lived, played and worked in the time when America was going through its most significant growing pangs, the Civil War. When you venture into the historic town of Harpers Ferry, you will be helping to commemorate the events that occurred near this settlement, including the creation of the first truly successful American railroad, the monumental attack on slavery by John Brown, and the site of the largest surrender of Union troops in the course of the Civil War.
Officially recognized by the federal government in June of 1944, Harpers Ferry National Historical Park is a place where both natural features and manmade memories are combined for a truly unique experience. Visitors to the Park are welcomed to hike up to Jefferson Rock in order to enjoy the view of the place where the Potomac and Shenandoah Rivers meet each other, and to visit with the over one hundred and seventy species of birds and thirty species of mammals that call the Park home. One of the more unique facts about conservation that occurs at Harpers Ferry is that in 2001 the Park began its official Peregrine Falcon Restoration Project.