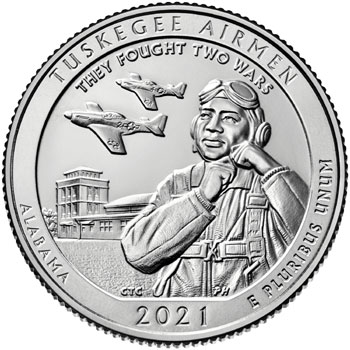 The Tuskegee Airmen National Historic Site Quarter was the fifty-sixth and final release within the America the Beautiful Quarters Program. The site represents the state of Alabama and was federally designated on November 6 ,1988.
The reverse design features a World War II era Tuskegee Airman with the Moton Field control tower in the background. Two P-51 Mustangs fly overhead. An inscription "They Fought Two Wars" refers to the fight against fascism abroad and racial discrimination at home. The remaining inscriptions read "Tuskegee Airmen", "Alabama", "2021", and "E Pluribus Unum". The reverse was designed by United States Mint Artistic Infusion Program Designer Chris Costello and sculpted by Renata Gordon.
The Tuskegee Airmen Quarter was officially released for circulation on January 4, 2021. This was earlier than intended due to increased demand for circulating coinage. The Denver Mint struck 304,000,000 and the Philadelphia Mint struck 160,400,000 coins for circulation.
Tuskegee Airmen Quarter Mintages
2021-D Tuskegee Airmen Quarter: 304,000,000
2021-P Tuskegee Airmen Quarter: 160,400,000
Tuskegee Airmen Quarter Specifications
Designers: John Flanagan (obverse), Chris Costello (reverse)
Composition: 91.67% copper, 8.33% nickel (clad), 90% silver, 10% copper (silver proof)
Diameter: 24.26 mm

Weight: 5.67 grams

Thickness: 1.75 mm

Edge: Reeded
About Tuskegee Airmen National Historic Site
Although it's hard to imagine now, there was a time when the only modes of transportation available to people in the United States involved wheels. When, at the turn of the century the Wright Brothers first discovered that it was possible for humans to soar like birds in the air, the whole world of transportation possibilities was blown wide open. As the technology of flight progressed and became more advanced, it was only natural to explore the ways that planes could be used to advance the efforts of the military, especially when it came to fighting wars on foreign soil. World War I saw the use of some planes and fighter pilots, who were considered the most elite members of the armed forces. When World War II rolled around in the 1940's the American government found itself under pressure to find more qualified pilots to man its air forces.
The answer to this need came in the form of African American volunteer pilots that were commissioned as part of a military experiment at Tuskegee University in Alabama. Up until this point in the war, African Americans had been greatly restricted as to the positions that they could hold. The Tuskegee Airmen effort was a major success, and the pilots provided a very valuable service to their country during the war. In recognition of all these men sacrificed for a country that was still denying them basic civil liberties at home. The Tuskegee Airmen National Historic Site was established by the federal government in 1998 in honor of all these men sacrificed and achieved in service to their country.