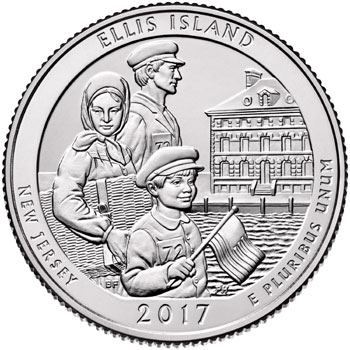 The Ellis Island Quarter was the thirty-ninth overall release within the America the Beautiful Quarters Program. The site represents the state of New Jersey and was federally designated on May 11, 1965.
The reverse design depicts an immigrant family approaching Ellis Island with a mixture of hope and uncertainty. From 1892 to 1954, Ellis Island was the busiest immigration station in the United States, processing more than 12 million immigrants. The inscriptions read "Ellis Island", "New Jersey", "2017", and "E Pluribus Unum". The reverse was designed by United States Mint Artistic Infusion Program Designer Barbara Fox and sculpted by Phebe Hemphill.
The Ellis Island Quarter was officially released for circulation on August 28, 2017. The Denver Mint struck 254,000,000 and the Philadelphia Mint struck 234,000,000 coins for circulation.
Ellis Island Quarter Mintages
2017-D Ellis Island Quarter: 254,000,000
2017-P Ellis Island Quarter: 234,000,000
2017-S Ellis Island Quarter: 956,200
Ellis Island Quarter Specifications
Designers: John Flanagan (obverse), Barbara Fox (reverse)
Composition: 91.67% copper, 8.33% nickel (clad), 90% silver, 10% copper (silver proof)
Diameter: 24.26 mm

Weight: 5.67 grams

Thickness: 1.75 mm

Edge: Reeded
About Ellis Island
There are few things so intricately connected with the way that we feel about our country than the Statue of Liberty on Ellis Island in New Jersey. That's right; the Statue of Liberty is in New Jersey and not New York! Ever since it was given to this country as a commemoration of the friendship that exists between the United States and France, the structure has stood for the universal emblem of freedom and democracy that we hold so dear. For those who came over from Europe as immigrants seeking a new life in the United States, the first glimpse of this statue was confirmation that their new lives of opportunity were about to begin.
For visitors to Ellis Island, a trip up the long staircase that is located inside the statue is a climb filled with goose bumps. From the time you arrive at the historic island via ferry boat, to the time that you arrive in the crown of Lady Liberty to look out over the water, visitors are constantly reminded of the long journey our country took to secure life and liberty for its citizens. Officially acknowledged by the federal government in 1965, the Ellis Island National Monument is an important part of the process whereby people can become citizens of this great country. Take some time to learn the story of how the monument was created in France, disassembled, loaded on to huge ships, and then painstakingly put back together on Ellis Island where it still stands tall today.