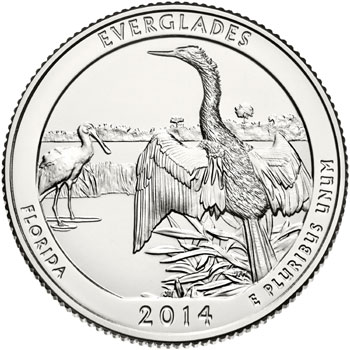 The Everglades National Park Quarter represented the twenty-fifth overall release within the America the Beautiful Quarters Program. The site represents the state of Florida and was federally designated on May 30, 1934.
The reverse design features an anhinga with outstretched wings on a willow tree with a roseate spoonbill visible in the mid–ground. Inscriptions include "Everglades", "Florida", "2014", and "E Pluribus Unum". The reverse was designed by Joel Iskowitz and sculpted by Joseph Menna.
The Everglades Quarter was officially released for circulation on November 3, 2014. The Denver Mint struck 142,400,000 and the Philadelphia Mint struck 157,601,000 coins for circulation.
Everglades Quarter Mintages
2014-D Arches Quarter: 142,400,000
2014-P Arches Quarter: 157,601,000
2014-S Arches Quarter: 1,180,900
Everglades Quarter Specifications
Designers: John Flanagan (obverse), Joel Iskowitz (reverse)
Composition: 91.67% copper, 8.33% nickel (clad), 90% silver, 10% copper (silver proof)
Diameter: 24.26 mm

Weight: 5.67 grams

Thickness: 1.75 mm

Edge: Reeded
About Everglades National Park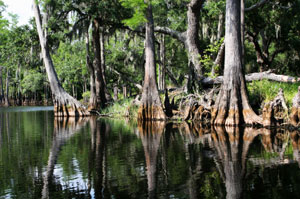 The area now known as Everglades National Park in the southernmost part of Florida, has been home to both native peoples and pioneer settlements, in addition to being home to some of the most diverse species populations in the country.
The Everglades were first recognized as a protected area by the federal government in May of 1934, and it has set the standard of conservation and preservation of national open spaces not only because they are beautiful and untouched, but also because they contain unique species that should remain uninterrupted by human development and recreation.
Because this dwindling string of islands is so subjected to the elements of wind, sun, and natural storms, it is constantly changing. The birds, mammals, and aquatic life that make their homes there must be ready to adapt at a moment\'s notice, as the reeds and nests that they live in might not be above water tomorrow.
The Everglades are protected as wilderness land, but the borders of the park actually only contain a fraction of the species that call the area their home. Scientists are still learning about the effects of humans and the elements on delicate habitats thanks to the Everglades National Park.