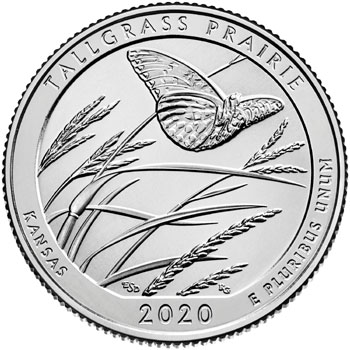 The Tallgrass Prairie National Preserve Quarter was the fifty-fifth overall release within the America the Beautiful Quarters Program. The site represents the state of Kansas and was federally designated on November 12, 1996.
The reverse design features Regal Fritillary butterfly against a backdrop of Big Bluestem and Indian grasses. The site encompasses nearly 11,000 acres and represents the largest expanse of tallgrass prairie left in North America. The inscriptions read "Tallgrass Prairie", "Kansas", "2020", and "E Pluribus Unum". The reverse was designed by United States Mint Artistic Infusion Program Designer Emily Damstra and sculpted by Renata Gordon.
The Tallgrass Prairie Quarter was officially released for circulation on November 16, 2020. The Denver Mint struck 142,400,000 and the Philadelphia Mint struck 101,200,000 coins for circulation. Similar to the prior year, the West Point Mint struck 2,000,000 coins for release into circulation.
Tallgrass Prairie Quarter Mintages
2020-D Tallgrass Prairie Quarter: 142,400,000
2020-P Tallgrass Prairie Quarter: 101,200,000
2020-W Tallgrass Prairie Quarter: 2,000,000
Tallgrass Prairie Quarter Specifications
Designers: John Flanagan (obverse), Emily Damstra (reverse)
Composition: 91.67% copper, 8.33% nickel (clad), 90% silver, 10% copper (silver proof)
Diameter: 24.26 mm

Weight: 5.67 grams

Thickness: 1.75 mm

Edge: Reeded
About Tallgrass Prairie National Preserve
If you've ever read the personal stories or historical accounts of the pioneers who originally settled the American Plains, you already know of the breathtaking effect that a view of the rippling prairie can have on a person. The tall grass prairies were so important to the original reputation of this country that their 'amber waves' were forever immortalized in the song, America the Beautiful. It is a sad reality that the development and industrialization of the American Midwest has many that many of these tall grass prairies have been pulled up or built over. Despite the fact that this grass used to cover over one hundred and forty billions acres of this nation, the Tallgrass Prairie National Preserve located in Kansas is one of the last stands of prairie grass anywhere in the country.
First dedicated as a nationally protected area in the fall of 1996, the Tallgrass Prairie National Preserve is one of the last places for visitors to observe the prairie as it used to look at the beginning of the last century. Here visitors can hear lectures and take tours in order to experience what it might have been like to be an early pioneer, traveling the prairie in a covered wagon. Something else that the Tallgrass Prairie National Preserve is working to do is to bring back another missing element of the original prairie, the Bison, or Buffalo that used to graze in giant herds on its grasses. Although the buffalo were hunted until practical extinction, there are efforts to revive and reintroduce the species to their native habitat.