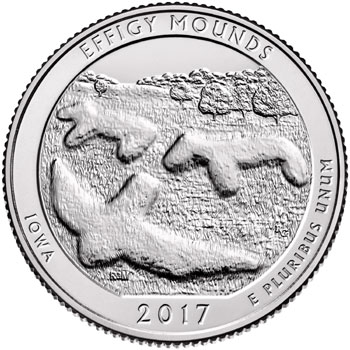 The Effigy Mounds National Monument Quarter was the thirty-sixth overall release within the America the Beautiful Quarters Program. The site represents the state of Iowa and was federally designated on October 25, 1949.
The reverse design features an aerial view of mounds in the Marching Bear Group. These animal or bird-shaped effigy mounds are Native American earthworks constructed between one thousand and two thousand years ago. The inscriptions include "Effigy Mounds", "Iowa", "2017", and "E Pluribus Unum". The reverse was designed by United States Mint Artistic Infusion Program Designer Richard Masters and sculpted by United States Mint Sculptor-Engraver Renata Gordon.
The Effigy Mounds Quarter was officially released for circulation on February 6, 2017. The Denver Mint struck 210,800,000 and the Philadelphia Mint struck 271,200,000 coins for circulation.
Effigy Mounds Quarter Mintages
2017-D Effigy Mounds Quarter: 210,800,000
2017-P Effigy Mounds Quarter: 271,200,000
2017-S Effigy Mounds Quarter: 931,340
Effigy Mounds Quarter Specifications
Designers: John Flanagan (obverse), Richard Masters (reverse)
Composition: 91.67% copper, 8.33% nickel (clad), 90% silver, 10% copper (silver proof)
Diameter: 24.26 mm

Weight: 5.67 grams

Thickness: 1.75 mm

Edge: Reeded
About Effigy Mounds National Monument
How many hills and bumps to you walk, ride or drive over in a given day? If you are riding your bike, you probably only think of this inclines as something that it takes extra work to climb to the top of, however there are some mounds of earth that are much more significant than others. The mounds of earth that can be found in Iowa's Effigy Mounds National Monument are actually very historically important examples of the belief system of the Native American tribes that once lived across the entire North American continent. When you visit Effigy Mounds National Monument, you might be surprised to notice that these sacred mounds are formed into the shape of birds and bears, and were used by the native peoples to honor the passing of their loved ones.
Officially recognized by the federal government in October of 1949, Effigy Mounds National Monument is considered to be one of the best examples and collections of sacred mound building that was practiced by over sixteen different Native American tribes in the early days of the country. Mounds were popular as a practice of these tribes almost one thousand years ago, and examples of sacred mounds in the shapes of spirits and animals can be found across the landscape of Iowa, Wisconsin, Minnesota and Illinois. Those who visit the park often take time to contemplate the significance of these mounds to those Indians that spent days and even weeks carrying the earth to form them. It is a great chance to reflect on the impact that one's own life will have on the planet and the society we are all a part of.