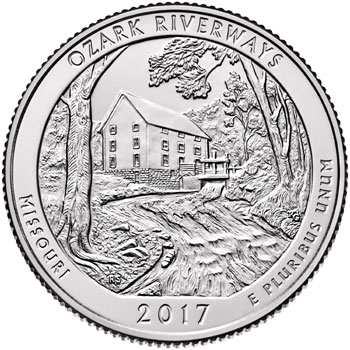 The Ozark National Scenic Riverways Quarter was the thirty-eighth overall release within the America the Beautiful Quarters Program. The site represents the state of Missouri and was federally designated on August 27, 1964.
The reverse design depicts Alley Mill, a steel roller mill located in the Ozark National Scenic Riverways. The mill was built in 1894 and was used to convert wheat into flour. The inscriptions include "Ozark Riverways", "Missouri", "2017", and "E Pluribus Unum". The reverse was designed by United States Mint Artistic Infusion Program Designer Ronald D. Sanders and sculpted by Mint Sculptor-Engraver Renata Gordon.
The Ozark Riverways Quarter was officially released for circulation on June 5, 2017. The Denver Mint struck 200,000,000 and the Philadelphia Mint struck 203,000,000 coins for circulation.
Ozark Riverways Quarter Mintages
2017-D Ozark Riverways Quarter: 200,000,000
2017-P Ozark Riverways Quarter: 203,000,000
2017-S Ozark Riverways Quarter: 906,840
Ozark Riverways Quarter Specifications
Designers: John Flanagan (obverse), Ronald D. Sanders (reverse)
Composition: 91.67% copper, 8.33% nickel (clad), 90% silver, 10% copper (silver proof)
Diameter: 24.26 mm

Weight: 5.67 grams

Thickness: 1.75 mm

Edge: Reeded
About Ozark National Scenic Riverways
While mountains and historical sites are very exciting when contemplating a trip to one of the country's many national parks and monuments, there are few things as refreshing as a trip to the Ozark National Scenic Riverways located in the lush regions of Missouri. The Ozarks have a rich history of being inhabited by people as early as the late Ice Age, which took place almost ten thousand years ago. Visiting the Ozark National Scenic Riverways provides a chance to explore the reasons why this region has been so inviting to many different groups of people over the eons. The shores of these riverways are teeming with diverse populations of birds, plants, animals and insects, while underneath the water fish and other aquatic life thrives.
It was not until August of 1964 that the federal government officially recognized the value of the Ozark National Scenic Riverways as a unique habitat worthy of preservation and conservation. Visitors to this area will have the opportunity to experience the type of life that both native and European settlers have called home over the years. If you are more interested in the cultural significance of this area, you can spend time touring the museums, river mills and homesteads that are sprinkled throughout the region. If you are more interested in exploring the natural assets of the region, you can spend time floating down some of the rivers, camping or hiking in the Ozarks. One of the most unique natural features of this area is the natural springs and underground caves that are located in the park. Some of the springs and caves are the largest in the country, and are usually open to tours year round.