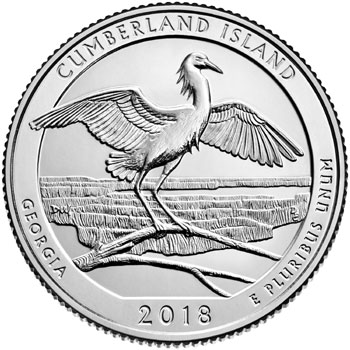 The Cumberland Island National Seashore Quarter was the forty-fourth overall release within the America the Beautiful Quarters Program. The site represents the state of Georgia and was federally designated on October 23, 1972.
The reverse design depicts a snowy egret with wings spread perched on a branch on the edge of a salt marsh. The national seashore preserves one of the largest and most ecologically diverse barrier islands on the Atlantic coast. The inscriptions on the coin read "Cumberland Island", "Georgia", "2018", and "E Pluribus Unum". The reverse was designed by United States Mint Artistic Infusion Program Designer Donna Weaver and sculpted by Don Everhart.
The Cumberland Island Quarter was officially released for circulation on August 27, 2018. The Denver Mint struck 151,600,000 and the Philadelphia Mint struck 138,000,000 coins for circulation.
Cumberland Island Quarter Mintages
2018-D Cumberland Island Quarter: 151,600,000
2018-P Cumberland Island Quarter: 138,000,000
2018-S Cumberland Island Quarter: 816,660
Cumberland Island Quarter Specifications
Designers: John Flanagan (obverse), Donna Weaver (reverse)
Composition: 91.67% copper, 8.33% nickel (clad), 90% silver, 10% copper (silver proof)
Diameter: 24.26 mm

Weight: 5.67 grams

Thickness: 1.75 mm

Edge: Reeded
About Cumberland Island National Seashore
If you've never been there, you might think that the only thing you can do in Georgia is visit the old plantations of the antebellum South. You might be surprised to learn, however, that part of Georgia borders the ocean, and as a result there are a plethora of things to and explore along this unique shoreline. As Georgia's most massive and southerly situated barrier island, Cumberland Island is a unique combination of humid marshlands and unspoiled beaches. Most people choose to visit this amazing national seashore in an attempt to be alone and contemplate the beauty of an undeveloped maritime habitat.
Officially recognized by the federal government in 1972, Cumberland Island National Seashore is a truly unique blend of both seashore and forest habitats, with trails that lead through lush trees and vegetation as well as those that run through marshes and beaches. There are a variety of ways that you can enjoy a visit to this national seashore, which was originally inhabited by Native American tribes before European settlers discovered it. In many other national parks, you might get to see an Indian arrowhead, or see a demonstration of how work was done in the early days of the country. At Cumberland Island you can comb the beaches for sharks' teeth and other artifacts of your own. If you are interested in hunting while you are visiting Georgia, you can also participate in several of the public hunts that are held in the park every year. If you plan on camping in this unique place, you can spend a night listening to waves as you count the myriad of stars that twinkle out over the water.