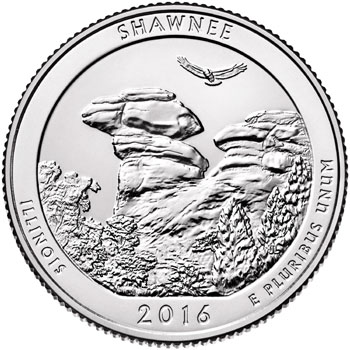 The Shawnee National Forest Quarter represented the thirty-first overall release within the America the Beautiful Quarters Program. The site represents the state of Illinois and was federally designated on September 6, 1939.
The reverse design features a close view of Camel Rock with natural vegetation in the foreground and a red–tailed hawk soaring in the sky overhead. The inscriptions include "Shawnee", "Illinois", "2016", and "E Pluribus Unum". The reverse was designed by United States Mint Artistic Infusion Program artist Justin Kunz and sculpted by Jim Licaretz.
The Shawnee Quarter was officially released for circulation on February 1, 2016. The Denver Mint struck 151,800,000 and the Philadelphia Mint struck 155,600,000 coins for circulation.
Shawnee Quarter Mintages
2016-D Shawnee Quarter: 151,800,000
2016-P Shawnee Quarter: 155,600,000
2016-S Shawnee Quarter: 1,066,440
Shawnee Quarter Specifications
Designers: John Flanagan (obverse), Justin Kunz (reverse)
Composition: 91.67% copper, 8.33% nickel (clad), 90% silver, 10% copper (silver proof)
Diameter: 24.26 mm

Weight: 5.67 grams

Thickness: 1.75 mm

Edge: Reeded
About Shawnee National Forest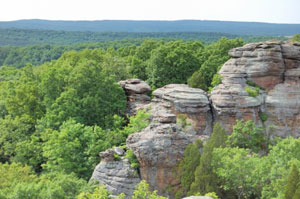 Although Illinois is one of the largest states in the United States in terms of land mass, it ranks forty eighth in the amount of land that has been set aside for preservation of natural resources and recreation areas. This makes the Shawnee National Forest a treasured area in the minds of most Illinois residents. For those that are looking to slow down, relax and reconnect with the wildness of nature, Shawnee National Forest acts as an oasis in their state.
Although friends and advocates of a federally protected forest area in Illinois had tried once before, it was not until September of 1939 that the Shawnee National Forest was officially recognized as a public wilderness area. Now the national forest contains not one, but seven congressionally designated wilderness areas which include six rivers that are candidates for the Wild and Scenic designation as well as four National Natural Landmarks.
Visitors to the park are mostly residents of urban and suburban Illinois that are looking for places to camp, hike, ride horses and enjoy the waterways of untouched Illinois landscape. Supporters of the forest are dedicated to keeping it preserved for human recreation as well as scientific research and the promotion of sustainable practices.