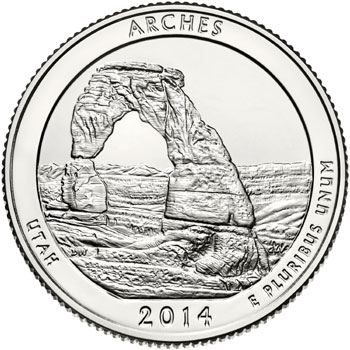 The Arches National Park Quarter represented the twenty-third overall release within the America the Beautiful Quarters Program. The site represents the state of Utah and was federally designated on April 12, 1929.
The reverse design features Delicate Arch, a 65–foot freestanding natural arch, with the La Sal Mountains visible in the background. The inscriptions surrounding the image read "Arches", "Utah", "2014", and "E Pluribus Unum". The reverse was designed by Donna Weaver and sculpted by Charles L. Vickers.
The Arches Quarter was officially released for circulation on June 9, 2014. The Denver Mint struck 251,400,000 and the Philadelphia Mint struck 214,200,000 coins for circulation.
Arches Quarter Mintages
2014-D Arches Quarter: 251,400,000
2014-P Arches Quarter: 214,200,000
2014-S Arches Quarter: 1,235,940
Arches Quarter Specifications
Designers: John Flanagan (obverse), Donna Weaver (reverse)
Composition: 91.67% copper, 8.33% nickel (clad), 90% silver, 10% copper (silver proof)
Diameter: 24.26 mm

Weight: 5.67 grams

Thickness: 1.75 mm

Edge: Reeded
About Arches National Park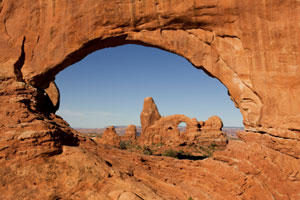 Arches National Park in Moab, Utah is one of those magical places that nature has created, and humans have a responsibility to protect and preserve the amazing structures that time and the elements have so delicately carved.
First designated as a national protected area in April of 1929, Arches National Park is home to the densest collection of naturally formed, sandstone arches in the entire world. As visitors' journey through the park, they have the opportunity to walk under hundreds of these archways that have been carved from solid rock through the natural erosion processes of the elements.
Arches National Park is a unique desert habitat, with geologists still working to interpret the stories that are lying in the layers of sand and rock that have taken millions of years to be deposited, and then slowly broken down again. Arches is considered to be a high desert climate, meaning that while elevations in the park can range from four thousand to over five thousand feet above sea level, the air is extremely dry and there is very little rainfall.
If you camp in Arches National Park, you will find the days to be very hot and arid, while the nights will be quite cold. This unique climate structure has caused species to develop unique adaptations and coping mechanisms in order to survive. Although the area technically a desert, visitors can still find riparian areas, dry arroyos, ephemeral pools, mixed grasslands and expanses of bare rock all within a short distance of each other.