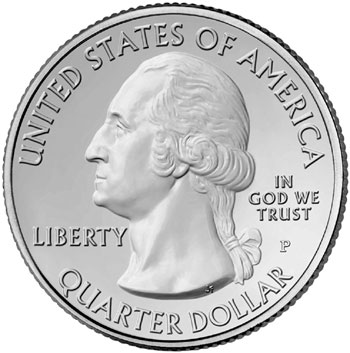 When the America the Beautiful Quarters series was first proposed, much of the focus was on the reverse designs of the coins. Under the proposal, a series of 56 different reverse designs would be released over an 11 year period. Each design would honor a National Park or other National Site located in each U.S. State, U.S. Territory, and the District of Columbia. The design to grace the obverse of the coin was not mentioned within the proposal.
When the United States Mint released the full America the Beautiful Quarters Site Register, they also revealed the obverse design for the coin. It would be a restored version of the portrait of George Washington created by John Flanagan that was used on the original 1932 Washington Quarter. Over the years, the US Mint had made modifications to the design, including a significant alteration for the State Quarters series. The restored version will look much like the original, but smaller in size to accommodate the extra obverse inscriptions.
Between the time the bill H.R. 6184 America's Beautiful National Parks Quarter Dollar Coin Act of 2008 was signed and the announcement of the Washington obverse, there was some initial speculation about Theodore Roosevelt's image being place on the obverse.
Rep. Peter King of New York recommended that Theodore Roosevelt replace the image of George Washington. In his words, Teddy Roosevelt was "the first great champion of the country's National Parks."
During a meeting of the Citizens Coinage Advisory Committee, members voted unanimously that consideration should be given to portraying Theodore Roosevelt on the obverse of National Parks Quarters. He was cited "for his contribution to the cause of conservation and his historical importance in general."
During his presidency, Roosevelt set aside more land for national parks and nature preserves than all previous presidents combined. In all, he set aside 194 million acres of land for national forests, national wildlife refuges, and special interest areas.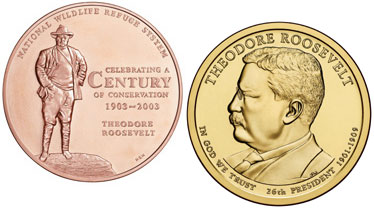 Theodore Roosevelt did appear on the obverse of the National Wildlife Refuge System Centennial Medal Series released in 2003. Four different medals were released featuring the Bald Eagle, Elk, Canvasback Duck, and Salmon on the reverse of the medal with Theodore Roosevelt on a common obverse design. He was also been featured on the obverse design of the 2013 Theodore Roosevelt Presidential Dollar released under the Presidential $1 Coin Program.