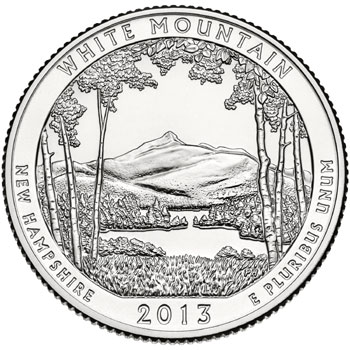 The White Mountain National Forest Quarter represented the sixteenth overall release within the America the Beautiful Quarters Program. The site represents the state of New Hampshire and was federally designated on May 16, 1918.
Depicted on the reverse design of the coin is Mount Chocorua, the easternmost peak of the Sandwich Range, framed by birch trees. This was designed and sculpted by Phebe Hemphill. The inscriptions around the outer portion of the coin read "White Mountain", "New Hampshire", "2013", and "E Pluribus Unum".
The White Mountain Quarter was officially released for circulation on January 28, 2013. The Denver Mint would strike 107,600,000 coins, while the Philadelphia Mint would strike 68,800,000 coins.
Numismatic products offered by the United States Mint included bags and rolls of circulating quality coins bearing the "P", "D", or "S" mint marks. The San Francisco Mint struck proof and silver proof versions for inclusion within various annual sets. The design was also used for a five ounce silver bullion and collector coin.
White Mountain Quarter Mintages
2013-D White Mountain Quarter: 107,600,00
2013-P White Mountain Quarter: 68,800,000
2013-S White Mountain Quarter: 1,606,900
White Mountain Quarter Specifications
Designers: John Flanagan (obverse), Phebe Hemphill (reverse)
Composition: 91.67% copper, 8.33% nickel (clad), 90% silver, 10% copper (silver proof)
Diameter: 24.26 mm

Weight: 5.67 grams

Thickness: 1.75 mm

Edge: Reeded
About White Mountain National Forest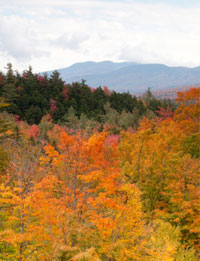 The White Mountains of New Hampshire have provided homes and jobs for many different types of people throughout the history of this country. Native Americans built their villages, travel ways, sacred grounds, hunting areas and camps among their craggy peaks. Early American settlers found places for their towns, farms, buildings, factories and recreation sites in their shadow. Now visitors to the White Mountain National Forest, which was established in 1918, can relive the significance of these diverse cultures that first called these mountains home.
Since the establishment of the National Forest, archaeologists have found over twenty confirmed prehistoric sites of early Native American inhabitants. Testing has indicated that Paleo-Indians were living at the base of the White Mountains' northern slope as early as ten thousand years ago. It would not be until the mid-seventeenth century that early European settlers would begin to explore the uncharted slopes and peaks of the White Mountains.
Visitors to the White Mountain National Forest are encouraged to visit the variety of historical houses and cultural sites that include the traces of past inhabitants.