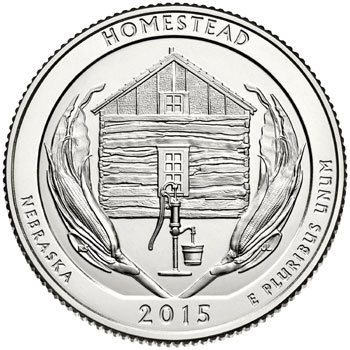 The Homestead National Monument of America Quarter represented the twenty-sixth overall release within the America the Beautiful Quarters Program. The site represents the state of Nebraska and was federally designated on March 19, 1936.
The reverse design represents the three fundamentals of survival common to all homesteaders: food, shelter, and water. Specifically, the coin includes two earns of corn, a rustic house, and a water pump. The inscriptions read "Homestead", "Nebraska", "2015", and "E Pluribus Unum". The reverse was designed by United States Mint Artistic Infusion Program artist Ronald D. Sanders and sculpted by United States Mint Sculptor–Engraver Jim Licaretz.
The Homestead Quarter was officially released for circulation on February 9, 2015. The Denver Mint struck 248,600,000 and the Philadelphia Mint struck 214,400,000 coins for circulation.
Homestead Quarter Mintages
2015-D Homestead Quarter: 248,600,000
2015-P Homestead Quarter: 214,400,000
2015-S Homestead Quarter: 1,153,840
Homestead Quarter Specifications
Designers: John Flanagan (obverse), Ronald D. Sanders (reverse)
Composition: 91.67% copper, 8.33% nickel (clad), 90% silver, 10% copper (silver proof)
Diameter: 24.26 mm

Weight: 5.67 grams

Thickness: 1.75 mm

Edge: Reeded
About Homestead National Monument of America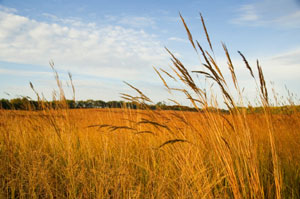 Have you ever wondered what motivated the early American citizens to leave the heavily populated east coast of the country and venture in to the wild unknown of central and western America? One of the most significant events in the westward expansion was the Homestead Act of 1862. This Act was decreed by the federal government as a way to encourage people to settle down on the wild prairies and mountain areas of the central and western country side of the country by offering them free land if they would just come and live on it.
The passing of the Homestead Act was monumental, people with no money but strong willpower now had the same chance as wealthy people to have their own tract of land, and all they had to do was survive on it. This of course, proved easier said than done in some instances, and the stories of many of the first pioneers, including the famous Laura Ingalls Wilder, are threaded with heartache and loss.
The Homestead National Monument of America was established in March of 1936 as a way to recognize the huge impact that the Homestead Act had on the shape and size of this country. Visitors are welcomed to visit the Homestead National Monument for free in celebration of the act that allowed almost ten percent of the entire mass of the United States to be settled by brave pioneers.